The concept of 3D printing of human replacement parts has been all over the medical and scientific news over the past few years. While each news release seems like it is revolutionary and new, most are the natural evolution of the refinement of 3D CT scanning and the ability to manufacture custom replacement parts from these images from various synthetic materials. This is of specific relevance to the skull and face where their complex anatomy make shaping natural tissues to fit difficult and often lacking inadequate donor volume to do so.
I have performed custom skull and facial reconstructions made of either HTR polymer or titanium for over twenty years…and custom silicone skull and facial implants for aesthetic enhancements over the past three years. As good as these synthetic reconstructions have been, there is always room for improvements and further technical advancements.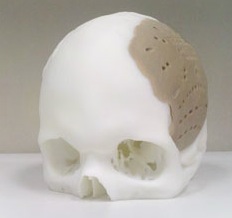 One of these has been in the evolution of improved materials for custom implant fabrication with the use of the polymeric material PEEK. (polyetheretherketone)  This is a colorless organic thermoplastic polymer from the polyaryletherketone (PAEK) family. This material has excellent mechanical properties with a Young's modulus of 3.6 GPa and a tensile strength of around 90 to 100 MPa. It is resistant to breakdown (melting) up to temperatures as high as over 340 degrees C (650 degrees F) In addition to resistance to thermal degradation, it is also highly resistant to breakdown by a wet environment or organic enzymes.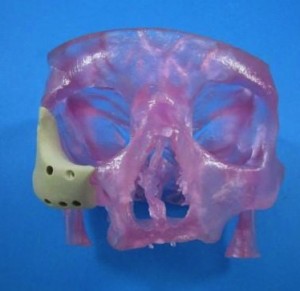 Custom implants made from PEKK were first FDA-approved in 2013 for cranial reconstructions and just recently approved in 2014 for facial reconstructive parts. (OsteoFab, Oxford Performance Materials) Through their processes it is possible to print patient-specific implants from either 3D CT or MRI scans. The implants are 3D printed and combined with laser sintering manufacturing technology and proprietary OXPEKK powder formulation to print skull and facial implants. These implants are biocompatible, mechanically similar to bone, radiolucent, and osteoconductive.
PEKK craniofacial implants offer several advantages over the traditional use of metal materials such as titanium or stainless steel. They have reduced weight, do not ever corrode, can be tailored to meet complex shapes with great precision and differing biomechanical loading properties. They also have a density and stiffness similar to bone and are radiolucent. (do not cause scan scatter) Some evidence also indicates that it has osteoconductive properties.
PEKK craniofacial implants is just one example in a long line of 3D printed biomedical advances. This technology and material allows complex craniofacial cases to be treated in a more precise manner that is ultimately more cost effective. While the actual implant(s) is not inexpensive, the savings in operative time and expense, need for donor site harvest and the high likelihood of subsequent revisional surgeries justifies the up front fabrication costs.
Dr. Barry Eppley
Indianapolis, Indiana
Tags: custom facial implants, custom skull implants, dr barry eppley, indianapolis, PEKK craniofacial implants