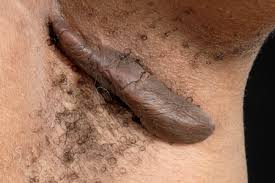 Keloids represent the extreme of scar problems. As a tissue overgrowth response to an injury, and often progressive and unremitting, keloids are a true pathologic scar problem. Besides being an overly obvious scar problem, it is also highly refractory to conventional scar therapies. While many strategies have been used for difficult keloids after excision (e.g., steroid injections, radiation treatments), there still remains a very high recurrence rate. There remains a need to for new and novel approaches to see if lower recurrence can be achieved.
In the Summer 2013 issue of the Canadian Journal of Plastic Surgery, an article was published entitled 'Eradication of Keloids: Surgical Excision Followed By A Single Injection of Intralesional 5-Fluorouracil and Botulinum Toxin'. This study involved eighty (80) patients with keloids of at least one-years' duration. Following total surgical excision of the keloid, a single dose of 5-fluorouracil (5FU) was injected into the edges of the healing wound on postoperative day nine (9) together with botulinum toxin.
The concentration of 5-fluorouracil used was 50 mg/mL and approximately 0.4 mL was infiltrated per cm of wound tissue, with the total dose <500 mg. The concentration of botulinum toxin was 50 IU/mL with the total dose <140 IU. Patients were followed-up to two years and a recurrence rate of 3.75% was found.
The present study shows a very low recurrence rate by keloid scar standards that is comparable to other studies with post-excision radiation treatments. One has to assume that it is the Botox that has a significant pharmacologic effect as 5FU injections alone would not have such a low recurrence rate.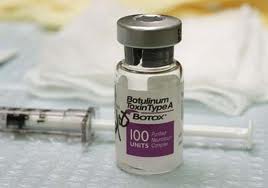 Since Botox has a known effect as a muscle weakener/paralyzer, how then does it work on scars? Several clinical studies and reviews have been done on the effects of Botox injections on scars. Besides the obvious benefit of preventing muscle pulling on the edges of a fresh wound or scar (which is really only a consideration in certain types of facial scars), its potential benefits are largely conjecture. Some have hypothesized that it inhibits fibroblast proliferation or the action of myofibroblasts, which makes theoretical sense, but that has never been scientifically proven or verified.
This is a fairly large clinical series of keloid treatments and would thus indicate that there  is merit to the injection of Botox after their excision. The mechanism of action remains speculative but its use is certainly more convenient and less costly than post-excision radiation treatments.
Dr. Barry Eppley
Indianapolis, Indiana
Tags: Botox, dr barry eppley, indianapolis, scar revision