Aesthetic facial neuromodulation, aka 'Botoxing one's face', is a long proven method for reducing the development of certain facial wrinkles and unwanted facial expressions. It has been done for so long and with such success that the original facial neurotoxin and still the most popular, Botox, has worked its way into the cosmetic procedure lexicon as a verb.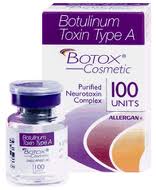 But Botox is not the only player in the injectable neurotoxin market as two 'younger' products have appeared in the scene in the last five years, that being Xeomin and Dysport. While all three advertise, promote whatever subtle differences that may exist between them and physicians have their preferences between them for their own reasons, but it is not really clear whether one is more or less effective than the other.
In the May 2015 issue of Plastic and Reconstructive Surgery journal, the article entitled 'A Prospective Split-Face, Randomized, Double-Blind Study Comparing OnubotulinumtoxinA to IncobotulinumtoxinA for Upper Facial Wrinkles' was published . In this paper a clinical study was published on 45 patients (41 women and 5 men) who had three types of facial wrinkles treated  using a 1:1 dose ratio of Botox and Xeomin. A total of 50 units of each drug was administered to the upper face in three areas. (glabella, forehead and crow's feet) and evaluated over a four month period. The effect on the wrinkles was assessed by a scale amongst blinded physicians. For toxin comparison, the researchers calculated differences in the degree of wrinkle scale at each period compared with pre-treatment and performed statistical analyses. They analyzed wrinkle types both individually and combined.
Their results showed that at identical doses, both Botox and Xeomin are safe and effective in the treatment of upper facial wrinkles. However, Botox  had statistically greater effectiveness in dynamic wrinkle reduction at each point in the study out to four months. This would suggest. although does not prove, that Xeomin may need higher doses to be equally effective.
Dr. Barry Eppley
Indianapolis, Indiana
Tags: Botox, dr barry eppley, indianapolis, xeomin