Background: Many breast augmentation patients present with some degree of breast ptosis. When combined with the number of women that are of the belief that an implant can lift up their sagging breasts, it can be a surprise when the concept of a breast lift is discussed as needed with their implants..
While the need for a breast lift is often obvious in some breast augmentation patients (nipple below the inframammary fold), smaller amounts of ptosis present less obvious needs. When the nipple is at the same horizontal level as the fold (grade 1 ptosis), this raises concern as to what may happen to it when a breast implant is placed behind it?
The key to this question lies in the quality of the breast skin and mound tissue. If the skin is tight and the breast mound small, an implant alone will create all the lift that is needed. But if the overlying breast tissues are lax from aging and breast involution, some form of a lift will likely be needed.
Case Study: This 45 year-old female presented for breast implants. But she had first degree ptosis and loose breast skin from age and pregnancies. She did not want vertical breast lift scars.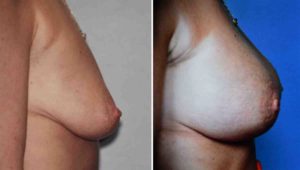 Under general anesthesia she has saline breast implants placed with a periareiolar or don't lift performed. Her postoperative result showed enlarged breast, no exaggeration of her preoperative breast ptosis and good areolar scars.
Of the four types of breast lifts, the donut technique is the second on the progression of increasing scar burdens to perform them. By removing an eccentric ring of skin around the areola some skin tightening and a minor amount of mound lifting can be achieved. But because of its limited lifting effect it almost always need to be done in conjunction with implant placement to have the best effect. It is still a 'minor' breast lift and should be only used in  cases of first degree ptosis. Prevention of periareolar scar widening is a function of the size of the breast augmentation and the amount of periareolar skin removed.
Highlights:
Breast augmentation in the presence of small amounts of ptosis may benefit from some form of a breast lift.
The periareolar or donut lift is a type 2 breast lift.
The width of the scars from a periareolar lift depends on the size of the size of the breast implants and the amount of skin removed.
Dr. Barry Eppley
Indianapolis, Indiana