Background: Jaw angle implants are enjoying a surge in popularity as patients are seeking improved shapes to their jawlines. Filling in the back part of the jaw offers a good complement to well established chin implants to create a more complete jawline augmentation effect.
Like just about every other facial implant, no one size or style fits all. This applies equally well to jaw angle implants. While the widening version has been around for over twenty years, a newer vertical lengthening style now exists. The key to which jaw implant style to use is the natural anatomy of the mandibular ramus. A highly positioned jaw angle and a steep mandibular plane angle are the indications for extending the jaw angle down through the vertical lengthening style.
While the use of three implants (one chin and two jaw angles) is one method of total jawline augmentation, some patients may not prefer their chin augmentation to be done with an implant. A sliding genioplasty can be combined with jaw implants if that is more favorable for the chin. (severe horizontal chin deficiency, lower lip incompetence, mentalis muscle strain) The consideration must then be given to the smoothness of the jawline since the front end of the jaw implant will not cover the back end of the sliding genioplasty bone cut.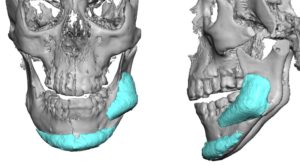 Case Study: This 43 year-old female previously had a chin implant and two jaw angle implants placed for a total jawline makeover by another surgeon. Unfortunately the right jaw implant became infected and the left jaw implant was severely malpositioned. The chin implant was fairly well placed but she did not like it because it made her chin too wide and did not improve her presurgical lower lip incompetence, mentalis muscle strain and chin dimpling.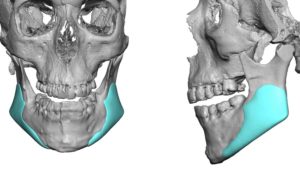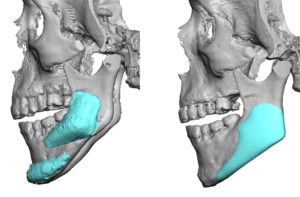 It was decided to remove her chin implant and replace it with a sliding genioplasty which would better address the functional aspects of her chin deficiency. (as well as making her chin less wide) The style of jaw angle implants would also be changed to be more vertical lengthening and to come far enough forward to cover the notch at the back end of the proposed sliding genioplasty. These jaw implants would need to be custom made using a 3D CT scan.
Under general anesthesia and through an intraoral approach, the chin implant was removed and a sliding genioplasty done in its place. The chin was brought forward 8mms and vertically shortened 3mms. The custom jaw angle implants were also placed intraorally and their anterior ends were positioned over the ends of the sliding genioplasty  to create a smooth and unbroken jawline effect.
A sliding genioplasty can be combined with jaw angle implants. In many cases standard jaw implants may suffice. But for a more assured seamless transition from the jaw implants to the bone of the chin advancement, custom jaw angle implants work best.
Highlights:
1) The wrong jaw angle implant style will still be a failure even if it is well placed.
2) Many women need a vertical lengthening jaw angle implant style and not a widening jaw angle implant style.
3) When combining jaw angle implants with a siding genioplasty, a custom implant design approach is often best.
Dr. Barry Eppley
Indianapolis, Indiana