Background: Ear reconstruction is most commonly done using autologous graft materials. Whether it is microtia reconstruction using rib cartilage in children or adult ear reconstruction using cartilage grafts and pedicled skin flaps, the patient' own tissues offer the least risk of postoperative complications and should be done when possible.
The use of synthetic frameworks or implants for ear reconstruction has its origin and current use with Medpor material. Most commonly done as an alternative to the use of rib cartilage in congenital microtia deformities in children, it offers a premade and well shaped ear implant. As a substitute for a hand-carved rib cartilage ear framework, it requires vasculrized tissue cover using the temporalis fascial flap (TPF flap) covered with a split-thickness skin graft. Its benefits is that it usually creates a much better shaped ear in the end and does so in less operative time with no need for a rib graft donor site.
While Medpor ear frameworks are effective, the material itself does not replicate very well the physical characteristics of natural ear cartilage. It is much more stiff (in fact rigid) and lacks any substantial flexibility. While creating a nice ear shape it does not create a good feeling ear. This stiffness can make the Medpor framework ear prone to occasional discomfort and skin breakdown due to pressure or trauma.
Case Study: This 78 year-old male has multiple basal cell skin cancers on his left ear on both front and back ear surfaces. It was decided that the best treatment for his ear cancer was near amputation. He was interested in a synthetic ear implant as opposed to a rib graft. Under general anesthesia he had a subtotal ear resection preserving the superior helical root, concha and earlobe.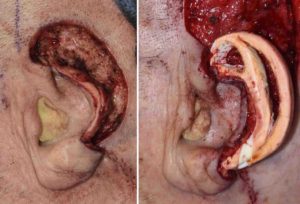 Using an ePTFE coated composite ear implant, it was carved into a shape replicating the portion of the ear cartilage removed. This was then sutured to the remaining ear cartilage.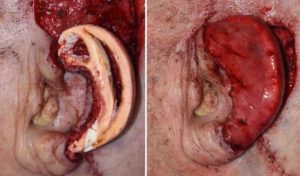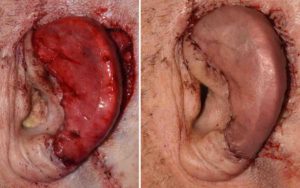 A TPF flap was raised through a vertical incision above the ear. It was folded down over the ear framework, preserving its temporal vascular pedicle, and sewn into the tissue edges around the remaining ear. A split-thickness skin graft was harvested from the thigh and laid over the TPF flap and sewn into place.
With healing time and tissue contraction, the details of the ear framework will eventually become more apparent through the applied vascular cover. In the long run the reconstructed ear will have a more natural feel due to the inherent softness of the ePTFE material.
Highlights:
Synthetic ear reconstruction relies on the use of a Medpor ear framework covered by a fascial flap and skin graft.
A new synthetic ear implant made of a composite silicone and ePTFE coating offers a softer and more flexible design.
Composite ePTFE ear frameworks offer a carving feel that is identical to that of natural rib.
Dr. Barry Eppley
Indianapolis, Indiana