Background: The nose is made up of many angles, lines and shapes and represents the most aesthetically complex structure on the face…despite its proportionately small size. How all of these various geometries (subunits) fit together changes based on what view or angle that the nose is being assessed. The most basic of all these nasal aesthetic considerations is that of the  dorsum and is one of the most commonly manipulated and requested nasal features.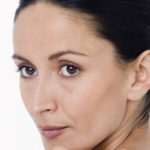 The dorsum is a central subunit of the nose that extends from the frontonasal angle superiorly down to the tip. In the front view it has aesthetic or side lines that create a smooth flow, or lack of the flow, down the length of the nose connecting the inner brows into the tip. In the side view, and a view that is of highest significance to patients, is the dorsal line. This profile line of the nose is a dominant aesthetic feature and has long been one of the most basic motivations for having rhinoplasty surgery as well as how the result is judged.
The dorsal line of the nose is gender specific. Man desire a straight or even the persistence of a small hump at the osteocartilaginous junction. Conversely women either prefer a straight dorsal line, or more commonly, a dorsal line that has a slight concavity to it. Men almost never want such a dorsal line shape.
Case Study: This 33 year-old female wanted to change the shape of her nose. She had a slight nasal hump and a tip that had too much projection. The shape of her nose from the side profile was her most important motivation for having the surgery.
Under a general anesthesia an open rhinoplasty approach was done. The small osteocartilaginous hump was shaved down and smoothed. Her nasal tip cartilages were shortened and narrowed by excision and suturing techniques. Shortening the nasal tip also created the need for further reduction in the height of septum along the middle vault.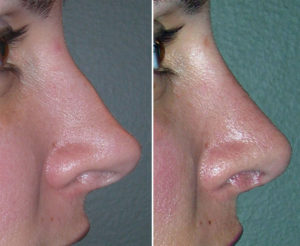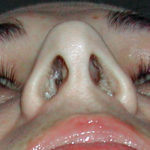 Her six month postoperative result showed an improved and more 'feminine' dorsal line with a tip that has a better length for her nose. Her dorsal line had the requested concavity or swoop between the forehead and the nasal tip. The columellar scar from the open approach had healed to the point that it could not be seen.
Why is it that women prefer such a nose shape? While fashion and celebrities help drive many a facial look, the desire for a small and perkier nose is a decided sign of femininity. It is also the antithesis of aging…it is a sign of youth and 'cuteness'.
Highlights:
The desired profile result for a female in rhinoplasty is almost always different than that of a male.
Many women desire a dorsal line profile that has a slight concavity or swoop to it.
Obtaining a swoop to the dorsal line is also highly influenced by the degree of tip rotation and/or shortening.
Dr. Barry Eppley
Indianapolis, Indiana