Background: The desirable features and shape of the male forehead is well known. It consists of a brow bone prominence, a superior brow bone break and a smooth slightly convex shape of the upper forehead to the hairline. A wider or more square forehead shape is often seen as an asset as well. Some put great stock in the appearance of the forehead in a man and it certainly can have a strong or weak appearance depending on the shape of the frontal and brow bones which make up its bone structure.
Regardless of gender, one of the desireable features of an attractive forehead is having a smooth contour. Irregularities or indentations are easily seen on the forehead given its broad surface area. This is particularly true in men who do not commonly have a hairstyle that can completely obscure the forehead.
Central indentations of the forehead are not rare in men and are the result of natural development. When present they often create the appearance of upper forehead prominences or horns. This is an artificial appearance that exists mainly because of the depression between them and the lower brow bones. Those who have these forehead horns often feel they make one look older and cast a shadow on the forehead which makes it look uneven even thought the forehead horns aren't really that raised.
Case Study: This is a 17 year-old male teenager who was bothered by the appearance of his forehead. It had an irregular uneven appearance and he was teased about how it looked. His forehead had a central horizontal depression between the upper forehead and the brow bones that made it look like he had two forehead horns.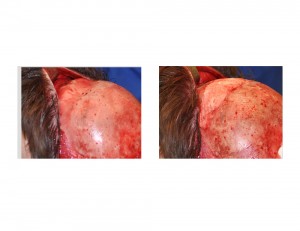 Under general anesthesia a coronal scalp incision was used to access the entire forehead. The forehead was built up with hydroxyapatite cement, filling in the depressed area in the center of the forehead. This created a smoother frontal bone shape which also eliminated his superior brow bone break.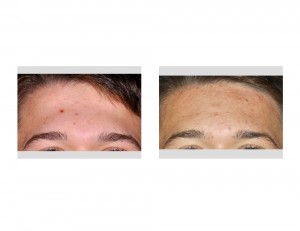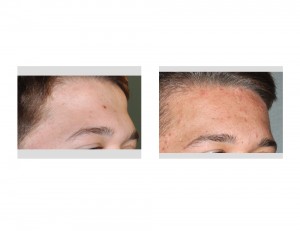 His results showed a much improved forehead shape with complete elimination of his forehead horns and any shadowing effect. His scalp scar was essentially undetectable across the entire length of the incision.
Case Highlights:
1) In some men, a depressed upper forehead accentuates their brow bone prominence and can even create the appearance of forehead 'horns' or prominences.
2) Forehead augmentation through hydroxyapatite cement can effectively smooth out indented forehead contours.
3) Forehead augmentation with bone cement needs to be done through an open scalp approach and can have very acceptable scar outcomes.
Dr. Barry Eppley
Indianapolis, Indiana
Tags: dr barry eppley, forehead augmentation, forehead recontouring, indianapolis, plastic surgery case study