Background: Osteomas are the most common bony tumor of the craniofacial skeleton. They are benign bone growth that is typically seen growing on another piece of bone. They appear as an outcropping or 'mushroom' of slowly growing bone and are easily disinguishable by appearing as a hard bump on an otherwise smooth bone surface. This makes them very identifiable on the skull where such bumps appear evident even when they are small.
Their are various causes of osteomas but the most common one is a history of prior trauma. Low impact blunt trauma to the skull is common since the head is a large object that frequently is inadvertently hit. If the head is struck in just the right location with enough force a perforating blood vessel may bleed and create an external bruise.When blood gets under the periosteum it can serve as a trigger for bone growth.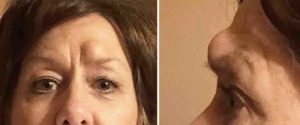 Case Study: This 56 year-old female had a large bump of the left brow bone that began over 17 years when she was accidentally struck by an attic door on her forehead. She developed a large bruise from which a small bump eventually grow to the big bump now seen. It has finally gotten big enough that she could no longer hide it. A CT scan showed that it was an outcropping of bone emanating from the outer cortex of the brow bone.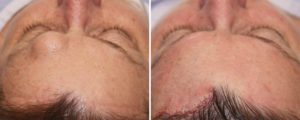 Under general anesthesia the brow bone osteoma was approach through a hairline (pretrichial) incision directly above it. Through a subperiosteal tunnel of the forehead skin the osteoma was exposed and dissected off of the overlying scalp tissues and the supraorbital nerve. An osteotome was used to separate it from the normal surrounding bone. The osteoma was composed of poorly calcified bone that was softer than normal skull bone.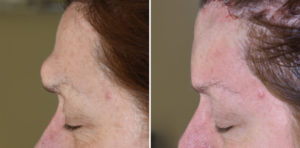 The removal of forehead osteomas are often dramatic as the removal of a large bump on the upper face resumes a normal appearance. The removal of a benign bony tumor should be done, if possible, through a discrete incision to avoid creating any adverse aesthetic trade-offs. Incisional approaches include a direct incision (right over it) and the remote approaches of a pretrichial or scalp incision.
Highlights:
1) Osteomas are benign bony tumors that are common in the craniofacial region.
2) Forehead osteomas are often the result of prior trauma and are slow growing over many years.
3) Forehead osteomas can be removed through either a hairline incision or an endoscopic approach further back in the scalp.
Dr. Barry Eppley
Indianapolis, Indiana