Background: The shape of the nose is incredibly diverse and no two people have the exact same nose.  But in the world of rhinoplasty surgery, noses are lumped into different categories based on ethnicities. In general any rhinoplasty that is not performed on a Caucasian nose is called an ethnic rhinoplasty.
One such ethnic rhinoplasty is that of the Middle Eastern nose. As the Middle East region has over 17 countries, there is no one unifed nasal shape or deformity. But the most common patient objective is to reduce a large hump or bump on the upper half of the nose. In addition the nasal tip often droops down, creating less than a 90 degree nasolabial angle. The combination of hump reduction and tip elevation constitutes the backbone of the Middle Eastern rhinoplasty.
Frequently the Middle Eastern nose has a thick skin cover. At the least it is on average thicker than that of most Caucasian noses. This can create a challenge for the degree of tip refinement. But in the male patient in particular the goal is to make the nose more balanced but still retaining the ethnicity of the patient's appearance.
Case Study: This 38 year-old Middle Eastern male desired to improve the shape of his nose. He did not like the large bump on his nose and wanted the tip lifted and thinned a bit. But he did not want the nose too upturned or the bridge area too low.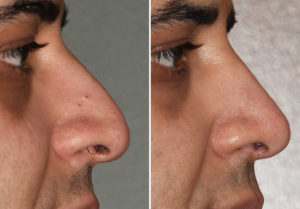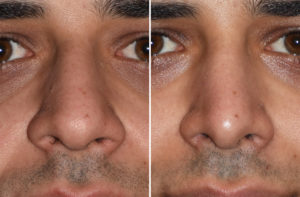 Under general anesthesia and through an open rhinoplasty, the dorsal hump as reduced requiring lateral osteotomes. The tip was lifted through combined caudal septal resection combined with tip cartilage reduction and suturing. Lastly alar base narrowing was done to stay in balance with the more narrow tip.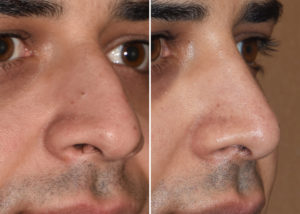 While rhinoplasty is changing the shape of the nose, it should not be significant enough for one to lose their Middle Eastern appearance. This is particularly relevant in the male patient where 'less is often more'.
Highlights:
1) The dominant deformities of the Middle Eastern nose is the hump at the bridge and the drooping nasal tip.
2) The male Middle Eastern rhinoplasty should strive to achieve a straight dorsal line and a nasolabial able of 90 degrees.
3) A more pleasing appearance to the nose but without loss of ethnic appearance are the two important objectives on any ethnic rhinoplasty…unless the patient desires otherwise.
Dr. Barry Eppley
Indianapolis, Indiana