Background: Breast implants are intended to enlarge the existing breast mounds. In so doing it is often erroneously believed that other features of the breast may be similarly improved. Unfortunately this is rarely true. Conversely any other deformities or asymmetries of the breast may actually become more noticeable not less.
The most visible feature of the breast mound is the nipple-areolar complex. It has features from size (diameter), nipple projection, to its position on the breast mound. Enlarging the breast will increase the diameter of the areola. Implants will not change nipple projection unless nerve sensation is lost. Uneven horizontal nipple positions between the breast mounds will be greater as the breast gets bigger.
One unique dysmorphic feature of the nipple-areolar complex is that of the 'puffy nipple'. This is where the entire areola puffs outward due to a collection of breast tissue beneath it. This almost always occurs as part of the spectrum of tuberous breast deformities. In its most minor form, a constricting ring around the base of the areola creates a small herniation of breast tissue through the areola ring creating a puffy nipple appearance.
Case Study: This 22 year-old female presented for breast augmentation due to her natural flat chest. What she did have were larger areolas that stood out due to their puffiness.  The areolas were soft and could easily be pushed in. Her understandable question was whether breast implants would push out the breast mound behind them and make them less puffy.

Under general anesthesia, she had 400cc high profile smooth silicone breast implants placed in the dual plane position through inframammary incisions. Her immediate and early postoperative results showed no change in the appearance of her areolar protrusions.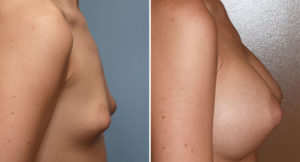 Longer term followup failed to show any improvement in her puffy nipple concerns. This proves that the push of an implant behind an areolar protrusion does not improve it. This makes sense since anatomically a 'hernia' can not be reduced by pushing on the side that the prolapsed tissue emanates.
The puffy nipple must be treated by excision of breast tissue through a partial areolar incision. This can be done at the same time as the breast augmentation or deferred until the patient is convinced breast implants alone are not corrective.
Highlights:
1) Breast implants are well known to magnify the existing features of the breast.
2) The features of a nipple are not changed/improved because the underlying breast volume is enhanced.
3) The puffy nipple or the microform tuberous breast is NOT flattened because a breast implant is placed behind it.
Dr. Barry Eppley
Indianapolis, Indiana