Background: Breast implants have obvious effects on increasing the size of the breasts. While volume of the breast obtained per implant size will vary amongst patients, it is obvious that the larger the implant is the larger the breast becomes.
But when it comes to breast implant shape, the effect on the outer breast is not so straightforward or always completely predictable. In round implants they come in different projections (e.g., medium, medium plus and  high) which makes alterations in the height vs width measurements within the same implant volume. Such changes in implant dimensions, however, are not as significant as that between implant shell shapes.
Silicone implant shells come in two shapes, round and anatomic. (aka tear drop) The anatomic implant. also called the shaped breast implant, has a defined difference in its upper and lower pole configuration. By making the bottom part of the implant fuller (2/3s of the implant's volume) it will have the same shape regardless of whether the patient is standing or laying down. Because of having this shape, it is important that the implant does not move around or rotate after surgery. Thus the implant shell has a textured layering on its outer aspect making it thicker than a smooth silicone implant. This means the implant will feel more firm and will not move regardless of the patient's position.
Case Study: This 35 year-old female wanted a breast augmentation result that was very natural looking. Her definition of that breast look was that it was not too round on the top part of the breast.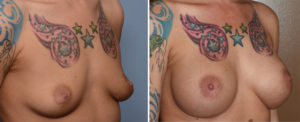 Under general anesthesia she had shaped breast implants placed of 350cc silicone through inframamammary incisions.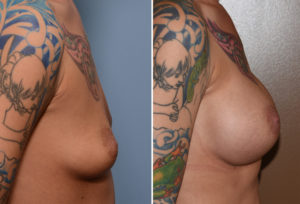 Her six week after surgery results show a very natural looking result of modest size with good implant symmetry. This satisfactorily achieved her breast enhancement goals.
Shaped or teardrop breast implants have a role to play in breast augmentation surgery. They give women an option that has a more powerful effect on the final breast result that does implant projection.
Highlights:
1) The design of a breast implant shell has both an initial and long-term impact on the external shape of the breast.
2) Anatomic breast implants allow for less initial upper pole fullness and a quicker attainment of a natural breast shape.
3) Anatomic breast implants are best inserted through an inframammary approach to ensure optimal implant orientation which is critical in these type of breast devices.
Dr. Barry Eppley
Indianapolis, Indiana