Background: The size of one 's head is a personal matter based on how one sees it. Some people feel their head is too big while others feel it is too small. While there are specific ratios and numbers for head to face size, what ultimately matters is how the person themselves see it. I have seen a lot of patients with concerns about their head size and in most the cases their concerns are visibly evident.
A larger head is hard to hide but a smaller head size can be camouflaged through a variety of head wear and hairstyles. Women can camouflage a smaller head size using their hair. Fuller hairstyles give the illusion of a bigger head. But eventually some women tire of the effort of making their hair a certain way or their hair becomes damaged by continually doing so.
The small head can be augmented to some degree using custom skull implants. The thickness of the skull bone can be doubled in many cases to create an overall larger head size. How much a skull implant can do so depends on the natural stretch of the scalp, which can not be precisely determined beforehand.  My experience has shown that about 12mms of central implant thickness can be tolerated in most people. The scalp can safely stretch over an implant and allow for a comfortable incisional closure. More implant thickness or volume requires a first-stage scalp expansion procedure.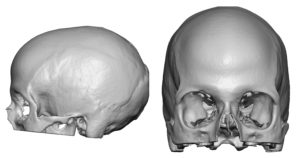 Case Study: This 30 year-old female ha done been bothered by the small size of head. She wanted a head that was taller and face her better balance to her face. A 3D CT scan showed a skull shape that  was normal but did not have a convex shape to the top. It has more of a flatter profile from front to back.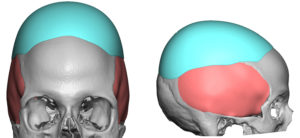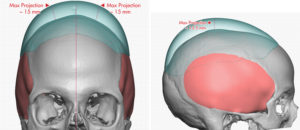 Her 3D CT scan was used to make a custom skull implant that added a lot of height (1t5mms) as well as broader coverage over the rest of her skull. Given its desired size it was felt that her scalp would not stretch enough to be placed without a first stage expansion.
A scalp tissue expander was placed in a first operation with a remote port placed under the skin above the right ear. She was able to place 110cc of saline volume into the expander over the next six weeks.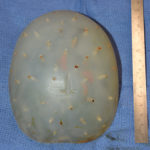 During a second operation the custom skull implant was placed  through a minor extended scalp incision that was limited to just across the top of her head. The scalp closure was tight but closed comfortable with metal clips.


Her results at just two weeks after surgery showed a nice increase in her head height and a well healing scalp incision.
Larger or more extreme skull augmentation require scalp expansion first. At the time of the implant placement the capsule from the expander misty bone removed from the bone as well as from the edges of the expander capsule. This will allow the scalp to fully maximize its expansion through these scar releases.
Highlights:
The size of any skull implant depends on the stretch of the soft tissue to accommodate it.
Larger skull augmentations require a first-stage skull expansion to ensure that there will be enough scalp to close over it.
The timing between the placement of a scalp tissue expander and the secondary placement of a skull  implant is usually around six weeks.
Dr. Barry Eppley
Indianapolis, Indiana