Bony augmentation of the face has been done by a variety of commonly used facial implants. While many of these implants work fine for standard aesthetic problems of the chin and cheeks, many other facial areas require a customized implant approach. This is particularly relevant when jawline augmentation is needed. Due to the amount of surface area coverage and the thickness and complex shape of the implant, total jawline  augmentation requires the creation of an implant design from a 3D CT scan.
Custom jawline implants are one of the most common types of 3D designed facial implants in my experience. Made from the patient's 3D CT scan, its design can be planned employing chin and jaw angle measurements and how to make the connection between them. While the implant can be designed to any specifications, the question always is what should those exact dimensions be? The answer to that question for each patient is not precisely known. There is no software program that can tell us how to make the implant for the exact type of facial change the patient seeks. This remains the art form of any custom facial implant design.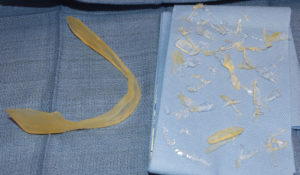 As a result there are certainly circumstances where both the patient and the surgeon may question whether the final design chosen and the manufactured implant will best serve their aesthetic needs. Such questioning may exist right before surgery (on the part of the patient) or during surgery. (on the part of the surgeon) The good news is that any custom implant, even larger jawline implants, can be changed or modified during surgery. Using large scalpel blades and experience in doing it, the custom implant can be reduced in size and its shape modified prior to placement.
This customizable custom jawline implant approach allows for shape changes that either have become apparent during surgery or for modifications that the patient desires right before surgery. Such changes do not violate the integrity of the implant or makes it lifelong durability any less.
Dr. Barry Eppley
Indianapolis, Indiana