Buttock augmentation can be done by two different methods. The most popular method today is the Brazilian Butt Lift (BBL), more generically known as fat injection buttock augmentation. It is popular because many people have excessive fat and this is a method of fat redistribution that creates improved body contours. Conversely buttock implants is less commonly done and with a longer recovery time.  It is reserved for those women who do not have enough fat for a BBL buttock augmentation procedure.
While often seen as an either/or approach, buttock implants and the Brazilian Butt Lift can be complementary to each other in certain patients. In women that do not have enough fat to harvest for a significant buttock augmentation effect, buttocks implants can be initially placed. Often this will be adequate for many patients. But for those buttock implants placed in the intramuscular location, the size limitations of the pocket or the lack of adequate lateral volume near the hip area may create a desire for a second stage fat injection treatment.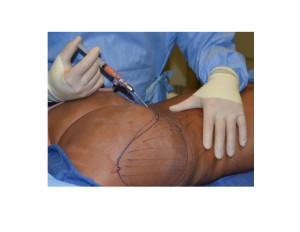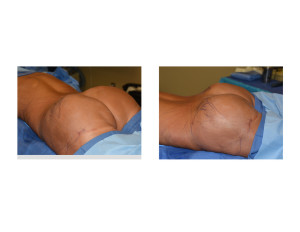 While the amount of fat a patient has may be inadequate for a full BBL procedure, most patients will have enough for a smaller contouring BBL procedure after buttock implants. A few hundred ccs of fat injected around the upper and outer perimeter of the buttock implants can create a fuller and more shapely buttock augmentation result. This is perfectly safe as the plane of the fat placement remains above the muscle and well away from the implant pocket.
Injecting around buttock implants that are above the muscle (subfascial plane) is a bit more treacherous. While fat injections can still be done, it is critically important the injected fat does not violate the implant capsule. If that should happen, there is a substantial risk of creating an implant infection.
Dr. Barry Eppley
Indianapolis, Indiana
Tags: brazilian butt lift, buttock implants, dr barry eppley, fat grafting, indianapolis