Buttock augmentation by fat injections, more commonly known as the Brazilian Butt Lift (BBL), has become widely popular over the past decade. The simultaneous body contouring by a liposuction fat harvest and the use of the fat for buttock augmentation offers a dual body contouring benefit. Compared with the use of buttock implants, a fat transfer can create a better buttock shape with a lower risk of complications and a faster recovery.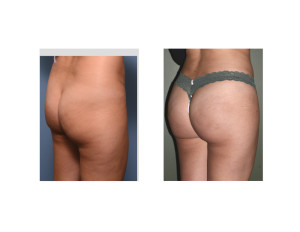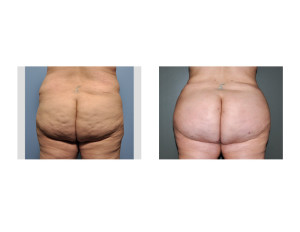 To achieve a successful Brazilian Butt Lift, a fair amount of fat needs to be harvested. To make it really worthwhile from a size standpoint, as much as 500 to 1000ml of fat is needed per side. And this represents concentrated fat not just liposuction aspirate harvest. To get an adequate fat harvest in many patients, it is an effort dependent process on the part of the surgeon. The use of power-assisted liposuction (PAL) makes it less fatiguing for the surgeon and has become my liposuction device of choice in large liposuction harvests such as is needed in BBL surgery.
In the November/December 2015 issue of the Aesthetic Surgery Journal the article entitled 'Power-Assisted Gluteal Augmentation: A New Technique for Scultping, Harvesting, and Transferring Fat' was published. In this paper the authors describe their technique to large volume buttock augmentation that combined power-assisted liposuction (PAL) and fat harvesting of the zones around  the buttock with autologous fat transfer. In 110 patients liposculpting and fat harvesting were done with a power-assisted liposuction device. Fat was then transferred to the buttocks with simultaneous power-assisted vibration and tunnelization. Harvested liposuction volumes ranged from 1400 to 5000mls and injection volumes ranged from 300ml to 900ml per buttock. Patients were followed for an average of 20 months. Complications included a persistent burning sensation (5%), persistent swelling in the lower back (3%) and a mild infection in one patient. (1%)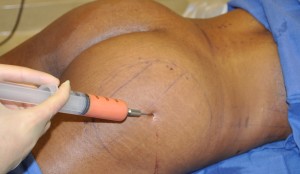 While the use of PAL for far harvest is well known, the use of the power-assisted device for fat injection/placement has not been described previously. Previous studies have shown that fat harvested from PAL offers superior fat cell yields to that of non-power assisted methods. Injecting the fat through a 3mm liposuction cannula under the vibration of the device is an interesting approach to the multiplanar delivery of fat to the buttock tissues. Whether this truly improves the fat graft survival rates has not been proven, and this study certainly does not do so, but it appears to have a good mechanical effect at dispursing the fat throughout the buttock tissues. It certainly appears to be easier to place the fat than through traditional syringe injection methods.
Dr. Barry Eppley
Indianapolis, Indiana
Tags: brazilian butt lift, buttock augmentation, dr barry eppley, fat injections, indianapolis