While many rhinoplasties are reductive in their overall reshaping effect, some require the addition of support or structure through the use of autologous tissue grafts. Most noses can be satisfactorily augmented or rebuilt through the use of septal, ear or combining septal and ear cartilage grafts. But when such local and regional cartilages harvest sites are depleted or inadequate for the amount of augmentation needed, the rib is the remaining 'go to' cartilage donor site.
Rib grafts offer an unlimited supply of cartilage graft material when it comes to what is needed in the nose. Regardless of where it is harvested (inframammary or subcostal incisions), the amount of donor material is more than adequate. Issues such as curved cartilage shapes (ribs are rarely perfectly straight) and whether full-thickness or in situ harvesting methods are used may pose some graft limitations But these are overcome by experienced harvesting techniques.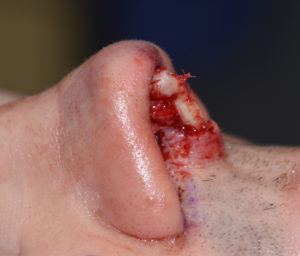 In the tip of the nose, rib grafts are needed when considerable tip lengthening or derotation changes are needed.  (rib graft tip rhinoplasty) Placing an L-shaped cartilage construct at the end of the nose has a powerful tip augmentation effect which is only limited by the ability of the skin to stretch over it and still have adequate perfusion after surgery.
Rib grafting to the nasal tip is often an onlay technique where the grafts are placed over the existing medial footplates and dome cartilages. A pocket is made under the columellar skin below the incision down to the anterior nasal spine into which one carved piece of the tip graft is placed. (vertical graft component) A lower dorsal-dome cartilage graft (horizontal component) is fashioned and placed on top of the existing dome cartilages to be united at 90 degrees to the columellar piece. Suturing the two rib grafts together creates the new tip defining point.
Dr. Barry Eppley
Indianapolis, Indiana