Chin augmentation can be done through either placing an implant on top of the bone or moving the actual bone forward. Both are valid chin enhancement techniques and each has their own unique advantages and disadvantages. While there are strong surgeon advocates for both techniques, it is important to remember that not every patient is appropriate for either one and what matters for good results is matching the solution to the problem and not surgeon preference or familiarity with either surgical method.
There are rare instances where a sliding genioplasty and a chin implant can be combined. There are two indications for this composite chin augmentation approach. The first one is when the amount of horizontal chin augmentation desired is more than what a sliding genioplasty alone can produce. This would occur when the thickness of the chin bone is less than what the amount of horizontal bone movement that is needed to create the desired effect can be done. The additional horizontal projection is achieved by placing the  needed implant size in front of the moved chin bone.
The second indication for the composite chin augmentation approach is when one desires a different chin shape than that of the natural bone of the sliding genioplasty. This almost is always when one wants a more square chin shape and the natural chin bone is more round. A more square shaped chin implant, even if it is small, is placed in front of the sliding genioplasty. It is vey difficult, if not impossible in many cases, to make the chin bone more square in external appearance.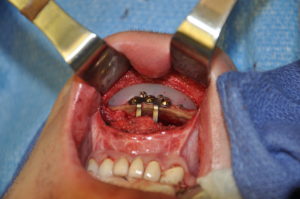 When placing an implant in front of the sliding genioplasty, it is important to realize up front, that there will be some eventual implant settling into the bone. This is not bone erosion but simply the body seeking to relieve the pressure from the pushback of the stretched chin soft tissue pad. It is a natural and self-limiting biologic process.
Dr. Barry Eppley
Indianapolis, Indiana