Wednesday, March 21st, 2012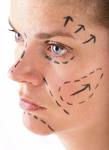 There are many reasons that patients request surgical changes to their face. With over twenty different facial regions that can be altered, there are seemingly endless options and combinations. But when you break it down, there are two main reasons for making cosmetic changes to the face. I divide these into either facial anti-aging surgery and facial structural surgery. For the most part, this is the difference between soft vs hard tissue facial surgery.
Anti-aging facial surgery includes many of the most recognizeable procedures such as a facelift, blepharoplasty (eyelid tucks) and skin resurfacing. These are done to counteract the effects caused by time, age and sun exposure. Changes are made to the soft tissues of the face, largely the outer skin layer. Facial structural surgery goes much deeper and makes changes to the bone and cartilage. The most common structural procedure historically is rhinoplasty but today includes everything from forehead augmentation and brow reduction down the face to chin and jaw angle augmentation.
Besides the tissue levels which these two types of cosmetic facial surgeries affect, there are also very significant psychological differences between them. Anti-aging facial surgery is more psychologically comfortable for patients because the goal is to take them back to once how they looked, a place in which there is familiarity. The surgery and recovery may be scary but the end result is a look that the patient can recognize and has known in the past. In contrast, structural facial surgery is very different. The end result is one that is not familiar. It is a new look, an alteration of a face that one has known their whole life.
Having done many facial structural procedures in my practice from rhinoplasty to jawline enhancement, I have made several observations about these types of plastic surgery. Some of these are not new and have been known in plastic surgery for a long time. But new technologies and biomaterials have changed what is possible today and with that comes new psychological ramifications for patients.
Changing the structure of one's face obviously requires an understanding as to what the patient's goals are. Patients provide that information by descriptions of their concerns and often provide visual aids such as drawings, self-photographs and photographs of other people. These are all really helpful and collectively important. But one concerning issue is the overuse of model or celebrity facial photos. Seeing too many of these or having a patient show a whole notebook of other people's or famous face may be a sign of unrealistic expectations after surgery. While everyone willingly acknowledges that they can not look like someone else, whether they believe that or not may be another story.
To aid presurgical discussions and goals, I consider computer imaging essential to any facial structural surgery. For the psychological reasons previously mentioned, I rarely do it for anti-aging facial surgery but consider it essential for structural changes. But computer imaging can be misinterpreted and often is. It is not a guarantee of results and such imaged results may never actually be achieved. It is a communication tool about surgical goals and what a patient wants changed and the degree of those changes. It is only as good as the person doing it and is really an integration of surgical experience and how well one knows computer imaging technology. This is why a plastic surgeon should be doing the imaging, for only they know what can really be achieved by different types of facial surgery. But even in the best of hands, a patient should not assume that is exactly the way they will look after surgery. It is an estimate or prediction but human tissues induce more variables than pixels on a computer screen.
When going through structural facial surgery, the recovery is going to be longer and more psychologically difficult that most patients envision. The swelling and bruising on the face can be quite shocking and no patient is ever really prepared for it. When the dressings, splints or sutures come out days or a week later, it is not a moment of celebration or expectation. It is just the first step in the recovery process. One is not looking at the final result and, depending upon the procedure(s) being done, full recovery is not just a few weeks away.
Facial areas will be puffy, swollen and distorted and usually far more than one anticipates. It may be significant or not all that bad, but this is not the time to judge the results. More importantly, and I have seen this many times, one should not assume that the changes are too big and need an immediate revisional surgery. What appears too big at two or three weeks after surgery may be just perfect at two or three months. My minimal time for judgment of facial structural surgery results is three months and I will not consider any revision before then unless they are compelling medical reasons. (e.g., infection) One should not attempt aesthetic revision on a moving target.
When three or more structural facial procedures are done at the same time, the appearance of the face the first few weeks after surgery can be very disturbing. Patients will often feel that they have made a mistake and even wish to return to how they looked before even though they obviously did not care for that appearance. Such after surgery appearances disrupt work and social interactions but are part of the process. If one thinks they will go back to work in two or three weeks after such surgery and will look perfectly normal…this is not realistic. Plan accordingly and I mean this from a psychological perspective. Living through the process of facial swelling resolution and tissue adapation around the bone or implant shape requires tolerance, explanations and even an openness about what has been done if necessary.
One of the most important considerations about structural facial surgery is an appreciation that the risk of needing revisional surgery is significant. At the least, it is much higher than that of a facelift or eyelid surgery. On the most simplistic level, let's compare the risk of complications/revisional surgery of eyelid surgery (1 % to 2%) vs a chin implant (5% to 7%) in my experience. Both are fairly straightforward and relatively simple procedures. But the use of an implant introduces issues of infection, malposition and size and shape issues that do not exist as much in manipulating one's natural skin. Now multiple that times the number of facial structure procedures being done, each with their own percent of risk, and it is easy to see why the risk of revisional surgery in facial structural surgery is significant.
For example, take a patient who is having rhinoplasty (5% revision risk), a chin implant (5% revision risk) and jaw angle implants (10% revision risk) done as a single procedure. On an additive risk basis, the real risk of revisional surgery in this case is 20% or higher, If you take more extreme cases of five or more facial structural procedures being done at the same time (a not uncommon collection of procedures in my practice), the potential risk of revisional surgery could be as high as 50%. This doesn't mean that the complications are devastating or severe but are almost always about symmetry and the size of the changes done in the various areas. It is hard aesthetically to make so many facial changes and have them all look perfect afterwards…particularly when one is not precisely sure how they will interpret the changes.
Facial structural surgery can make significant aesthetic changes to either give the face a better shape, more definition and improved balance or to improve asymmetries between the two sides. But it is harder surgery to undergo both in planning and during recovery and has a higher risk of the need for revisional surgery.
Dr. Barry Eppley
Indianapolis, Indiana