Tuesday, April 14th, 2015
Background: A sliding genioplasty is a well known and historic procedure for changing the shape of the chin. It was originally described in the 1940s but has evolved considerably due to the use of rigid fixation using plates and screws. While once clever osteotomy designs and wire fixation methods were used for stabilization of the bone segments, which limits how much the chin position could be changed, plate and screw fixation now makes virtually any bony chin change possible.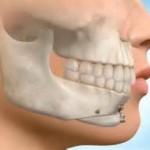 For chin augmentation, the chin implant is often compared to the sliding genioplasty as creating similar effects. But the reality is that this is only partially true and they are only comparable when it comes to pure horizontal movements as seen in the profile view. Vertical and width (narrowing) changes can not be done with an implant. (although newer vertical lengthening chin implants have recently become available)
The real benefits for a sliding genioplasty are when vertical elongation of the chin is needed and when the amount of chin advancement desired exceeds that of which standard implants can achieve. This would be particularly useful in women who can aesthetically tolerate a more narrow chin as it comes both forward and down. The other benefit for a sliding genioplasty in these more substantial chin changes is that it 'carries' the soft tissue of the chin pad with it and does not create a devascularizing effect due to maintaining most of the soft tissue attachments (and resultant perfusion) to the bone.
Case Study: This 26 year-old female had a short chin in both horizontal and vertical dimensions. Her lower facial height was disproportionate to the rest of her face. As a result, she appeared to have a full neck/double chin.  She knew she wanted her chin augmented but was just not sure how it should be done.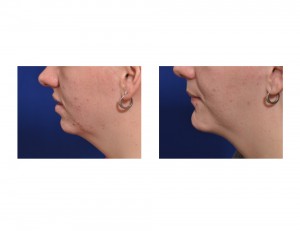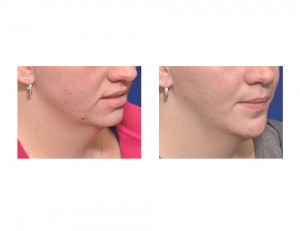 Under general anesthesia, she underwent an intraoral sliding genioplasty. A low horizontal bone cut was done and the chin was advanced 16mm forward and 8mms downward. This was the maximum amount of chin bone movement that could be done while still maintaining some bone contact between the segments. Rigid fixation was achieved by a titanium step plate and screws. The bone gap (step between the upper and lower bone segments was filled with demineralized bone particles. The mentalis muscle was resuspended at closure.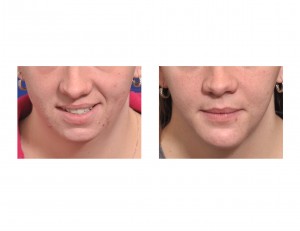 The vertically opening sliding genioplasty can help make the lower face more proportionate by making bringing it forward and down. This will make the jawline have more of a V-shape and will also help get rid of a double chin problem due to lack of bony projection.
Case Highlights:
1) A sliding genioplasty is historically the only chin procedure that can provide both horizontal and vertical elongation of the chin. (custom made implants can now do that also)
2) A vertically opening sliding genioplasty with horizontal advancement will make the chin more narrow as a result of these bony movements.
3) Unless the bony chin movements are extreme, bone grafting of the interpositional gap between the chin segments is not necessary. Even when needed demineralized bone substitutes can be successfully used.
Dr. Barry Eppley
Indianapolis, Indiana