Sunday, May 3rd, 2015
Background: Horizontal chin augmentation can be done using either a synthetic chin implant or a sliding genioplasty. There are advantages and disadvantages with either approach and they must be considered in an individual patient basis. The decision in any patient ultimately depends on their perception of an alloplastic vs. an autogenous approach, the risks of the procedure and its recovery and what other dimensional changes of the chin that are needed beyond just that of the horizontal change.
But the use of a chin implant does not always produce the desired amount of chin augmentation change that every patient desires. This may be due to inadequate implant selection, the chin implant settling into the bone thus losing some horizontal projection, chin implant malposition or an accommodation to the initial chin augmentation result.
When further improvement is desired after an initial chin implant augmentation, the options are either a larger implant or to convert it to a sliding genioplasty method. A larger implant is usually done as this is the simplest revisional approach provided that a new implant can create the desired horizontal change. When a larger chin implant offers but a modest additional augmentation (e.g., 5mms or less) the the sliding genioplasty option becomes a consideration. It would be either that or have a custom chin/jaw implant made.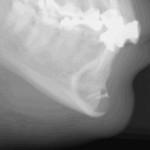 Case Study: This 26 year-old male wanted additional chin augmentation after having a prior chin implant placed several years previously. He always felt that is lower jaw was smaller. His original chin implant provided 7mms of horizontal projection but it could be seen that it had settled into the bone a few millimeters. He opted for a sliding genioplasty as he felt that would more reliably give him long-term augmentation.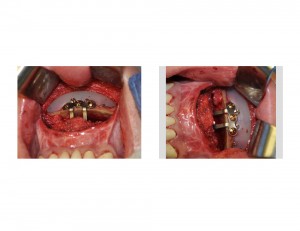 Under general anesthesia, an intraoral approach was used to access the chin. The chin implant was easily identified and it was nestled nicely into the bone. A horizontal osteotomy cut was made above it from side to side and the bone downfractured. The chin segment was then advanced 12mms and stabilized with a step plate and screws. The chin implant was never moved from its original position during the procedure.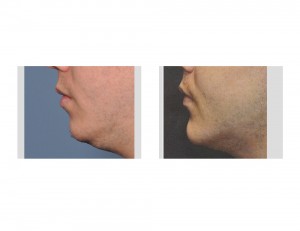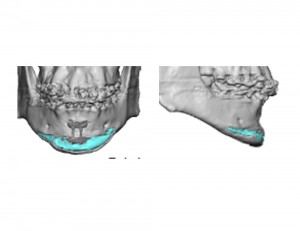 A sliding genioplasty can be successfully done with an indwelling chin implant. It can be argued that this is a good technique to take advantage of some of the prior procedure (and investment) and gain additional horizontal augmentation. Whatever implant settling has occurred into the bone has already reached its peak and no further inward change would be anticipated.
Case Highlights:
1) An unsuccessful chin implant result can be improved by a sliding genioplasty.
2) It is not always necessary to remove an existing chin implant when doing a sliding genioplasty.
3) A sliding genioplasty can be performed by making the osteotomy cut above the chin implant and moving both forward simultaneously.
Dr. Barry Eppley
Indianapolis, Indiana