Chin augmentation can be done by a variety of surgical methods including a chin implant and a sliding genioplasty. Each of these aesthetic chin techniques has a role to play and they have their own advantages and disadvantages. But both have the same limitation…a limit to how much the chin can be horizontally projected. Chin implants are not made with standard thicknesses that are greater than 10 to 12mms. A sliding genioplasty can only be moved as far as the thickness of the bone will allow which can vary between 10mm to 16mms.
The horizontal movements provided by standard chin implants and sliding genioplasties are sufficient for the vast majority of patients with chin/jaw deficiencies. But they can be inadequate for the few patients that have horizontal chin projection deficiencies that exceed 15mm and may be as significant as 25mms.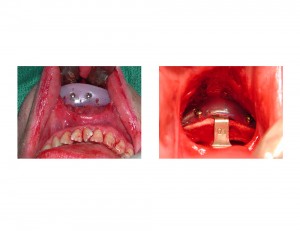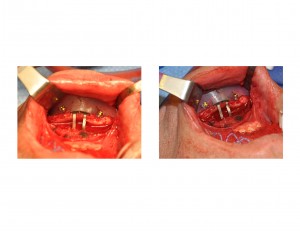 Combining a sliding genioplasty with an implant is a novel method to achieve larger amounts of chin projection that I have done for years. Through an intraoral approach, which is needed for a sliding genioplasty, the implant is placed on the chin bone just one would normally do. It does need to be secured into placed by screw fixation otherwise it would easily become displaced. A chin implant with long wings also has the advantage of covering over the bony step-off that often occurs at  the back end of the osteotomy.
Very large chin deficiences can be managed by the creation of a custom implant but combining an implant and a sliding geniplasty may be sufficient in some of these cases. In my experience there has been no higher infection risk when placing an implant on top of a sliding genioplasty than when using a chin implant alone.
Dr. Barry Eppley
Indianapolis, Indiana
Tags: chin augmnetation, chin implants, dr barry eppley, indianapolis, sliding genioplasty, technical strategies in plastic surgery