The use of calf implants to achieve improved fullness of the lower legs is the most reliable body contouring procedure of the lower legs. Calf augmentation is done for men that want to improve the overall size of their calf muscles. Women are often trying to put their calfs in better aesthetic balance to their thighs. The most common reconstructive use of calf implants is in the congenital club foot deformity to improve calf symmetry (unilateral) or have some semblence of calf muscle mass. (bilateral)

Calf implants are made of a pliable and shapeable solid silicone material that feels a lot like muscle tissue. The implants come in three standard sizes which is defined by their length and volume of augmentation. (Implantech calf implants – 15 cms/75cc, 20cms/135cc and 24cm/185cc) The selection of calf implant size is affected by both of these considerations but one of the most important is the length of the patient's gastrocnemius muscle.
Since calf implants are placed in a subfascial location, they can not extend below the most inferior level of the gastrocnemius fascia where it meets with the soleus fascia/muscle and achilles tendon. The fascia overlying the junction of these two muscles and tendon is very tight and is easily disrupted. Trying to subfascially dissect and place calf implants that are too long will result in disruption of their fascial covering and a lower end of the implant that is in the subcutaneous location. This will result in a calf deformity and pain.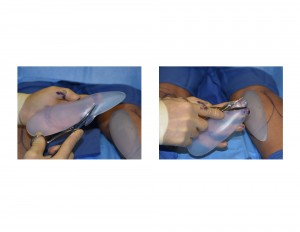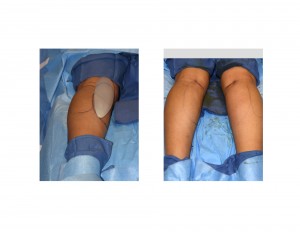 When the size of the calf implant chosen is too long for the patient's gastrocnemius muscle length, the implant can be intraoperatively trimmed. The silicone material can be easily and quickly reduced and shaped by scissors. Calf implants can be shorted and the lower end retapered. With the implant in the subfascial location, any small irregularities on the implant's outer surface will not be seen.
I have yet to see a circumstance where the width of a calf implant needed to be reduced. But it is not rare to have to reduce the standard lengths of the medium and large calf implants to optimize the amount of calf augmentation effect.
Dr. Barry Eppley
Indianapolis, Indiana
Tags: calf implants, dr barry eppley, indianapolis, technical strategies