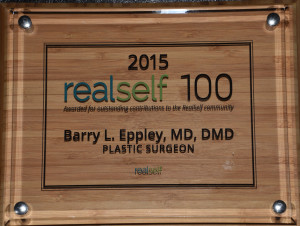 Real Self is a community-driven website where readers can review treatments and find a plastic surgeon to perform them. The website is chocked fill of reviews, popularity rankings and lots of general information on plastic surgery and aesthetic medicine. The layout of the site allows readers to post questions for doctors to answer and is one of its strongest and most unique features. In addition to posting questions to doctors, it also allows the readers to write treatment reviews and share photos of their plastic surgery experiences. It is estimated that Real Self attracts close to 8 million visitors a month.
Real Self has a 13,000 member doctor community who are registered with the site. Every year the company lists its Top 100 doctors who have contributed the most to the site through answering patient questions, posting before and after pictures and through patients who have reviewed them.
The 2015 Real Self 100 lists Indianapolis plastic surgeon Dr. Barry Eppley as one of its top 1% of its doctors. As a Real Self 100 honoree, Dr. Eppley is recognized as a leading consumer influencer in aesthetic surgery and medicine. This award is a testament to his commitment and contributions through the 2015 year. By contributing to Real Self at this level, he has helped set the standard of excellence in consumer education.