Rhinoplasty using an implant for augmentation is most commonly done around the world on Asian patients. With such large numbers of noses being implanted, it is inevitable that a certain percentage of complications will arise from their use. This is usually manifest as infection requiring implant removal. The sequelae of this process is a nose that has developed thick scar tissue that ultimately must be released/excised in a subsequent revision rhinoplasty. In more significantly affected cases the nose becomes severely contracted due to involvement of both the skin and the underlying cartilage framework.
In the September 2016 issue of Plastic and Reconstructive Surgery, an article was published entitled 'Correction of Severely Contracted Nose'. In this paper the authors report on 59 patients with severe nasal contractures that were treated by adipose-derived stromals cell to soften the nasal skin prior to revision rhinoplasty. The total injection volume was 0.5ml with cell counts of 10,000,000/ml. The lower alar cartilages were released from the scar for advancement with rib grafts used mainly for the cartilage graft reconstruction.
Over an average 10 month followup period, 86% (51 out of 59) of the patients were satisfied with their result. Two patients (3%) subsequently developed infections and cosmetic issues arose with the cartilage grafts in eight patients. (14%) Nine of the patients (15%) need secondary injections into the tip of the nose.
When an implant needs to be removed from the nose due to infection, the question is when should revisional surgery be performed. There is no consensus as to when that should be when the infection appears to be cleared.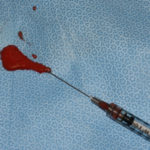 Rather than waiting until the nose becomes scarred and contracted down a good argument can be made for early soft tissue intervention. In this paper stromal cell concentrates were used. Other surgeons, as have I, use concentrated fat grafts. Whether one injectate is better than the other is not currently known. For the purposes of cost concentrated fat injections would be preferred. In either case the goal is to soften scar tissue and improve the overall health and vascularity of the nasal skin envelope in preparation for secondary cartilage grafting.
Dr. Barry Eppley
Indianapolis, Indiana