Cartilage grafting in rhinoplasty is a commonly used technique for structural support and airway improvement. In many cases the adjoining septum provides a convenient and structurally straight source for the donor cartilage. When septal cartilage is insufficient or unavailable many surgeons choose the ear as the donor site. Besides being a limited source of cartilage it also has unfavorable curved shape to it as well as is not very rigid.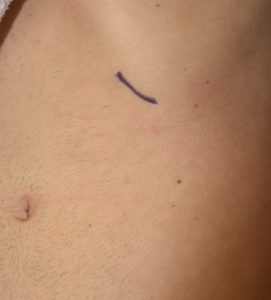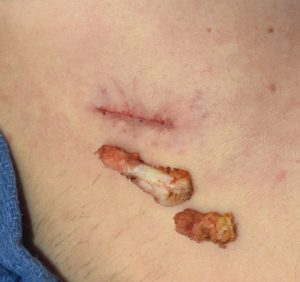 The rib provides a plentiful source of cartilage for any rhinoplasty if the patient will permit it to be harvested. If so the discussion then becomes which rib to harvest. Probably the most common rib to use is #5 or #6 as an in situ harvest particularly in women due to the familiarity of the inframammary incision. Such in situ harvest can be done on the 8th rib through a subcostal incision. The distal end of ribs 9 and 10 can also be harvested once separated from their costochondral junctions. Surgeons may shy away for these two lower ribcage ribs because they are too curved and have a higher risk of pleural violation.
In the November issue of the journal Plastic and Reconstructive Surgery an article on this topic was published entitled 'The Ninth and Tenth Costal Cartilages Are Available and Safe Options for Rhinoplasty: A Cadaveric Anatomical Study'. In this paper the authors performed cadaveric dissections on 24 ribs looking at the 9th and 10th ribs in particular. Measurements were taken of their thicknesses from the costochondral junction out o their tips. To evaluate safety during harvesting the thickness of the underlying rectus muscle was also measured. The 9th rib was longer than the 10th by 3cms. (9cms vs 6cms on average) The 10th rib was less wide than the 9th rib. (10mms vs 12mms on average) The 9th rib was slightly thicker than the 10th. (8.5mm vs 7mms on average) The thickness of the transverse abdominal muscle under the rib cartilages was around 2cms. 
This study demonstrates that the cartilage segment of ribs #9 and #10 provide adequate cartilage for rhinoplasty. As the underlying abdominal muscle is fairly thick it would be unlikely that an intra-abdominal violation would occur. The one missing piece of anatomic information that would have been useful was the proximity of the pleura at their costochondral junctions. Presumably this was not done based on the assumption that the rib may not need to be harvested as far back as the junction where the transverse abdominal muscle does not lie underneath.   
Dr. Barry Eppley
World-Renowned Plastic Surgeon