Fat loss in the face is referred to as facial lipoatrophy. While some people have it occur naturally with aging or weight loss, for others it is a medication side effect. While retroviral drugs have extended the lives of patients with human immunodeficiency virus (HIV), one of its well know side effects is the loss of the facial fat compartments. This has become known as facial wasting since it is an abnormal and active process. In facial lipoatrophy terms, there are various degrees of it classified as I through V. Many HIV positive patients have advanced type IV and V facial lipoatrophy appearances.
While facial wasting affects all fat layers in the face, its biggest impact is on the buccal fat pad. With its numerous fingers of fat that extend throughout the face and up into the temple region, loss of the buccal fat pad creates a skeletonized and hollow facial appearance. In its fullest extent, it makes one look ill and unhealthy and carries the social stigmata of someone who has the disease.
It has been shown that thymidine analogue drugs are the cause of this facial lipoatrophy effect. Recovery of some of the lost fat can be achieved with a switch to nucleoside reverse transcriptase inhibitor-sparing therapies but it is slow and never complete.Various forms of plastic surgery are needed to create a more dramatic and immediate facial change.
Facial rejuvenation procedures for facial wasting is focused on volume restoration around  the periorbital region (eyes), specifically that of the cheeks and temple regions. The temple hollowing is a pure soft tissue deficit while that of the cheek area is a combined bone and soft tissue deficit. This is not to say that the cheek has lost bone but that it has become very skeletonized adn looks withered, thus cheek (malar = bone) and the area below the cheek (submalar = soft tissue) needs building back up.
While there are injectable treatments available to treat facial wasting, synthetic (Sculptra) and natural (fat), they have favorable degrees of effectiveness. Sculptra injections are for those patients who are definitely opposed to surgery and have the patience to wait until their fill effect is seen…and then have it repeated 18 to 24 months later. Fat injections are problematic both in harvest and persistence. Many facial wasting have little fat to harvest and its ability to survive in tissue beds with very little subcutaneous fat is precarious at best.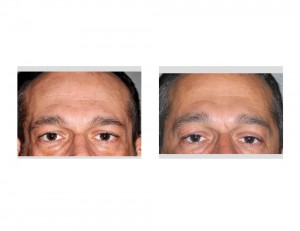 A facial implant approach can be very successful and create an immediate volume restoration with long-term stability. The temple hollowing is treated with new soft silicone elastomer temple implants that are placed below the fascia but on top of the muscle. This camouflages the implant edges and is a remarkably simple procedure to insert them with no postoperative pain, little swelling and a very quick recovery. They are far superior to any injectable filler because they are so effective. They key in using them is to not pout in a size that is too big which is very easy to do in a very skeletonized temporal region.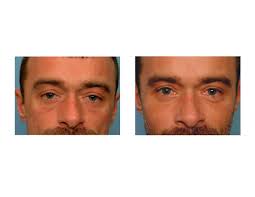 The cheek area requires a very broad-based implant, part of which is placed below the cheek bone on the masseter muscle. Proper implant placement actually puts at least half if not more of the implant below the bone. While once submalar cheek implants were exclusively used, I have found that larger combined malar-submalar shell implants do a better job of midface volume restoration. Because these type of cheek implants are substantative in size, screw fixation is useful to keep them in the desired location as they heal.
One area that is left out with temple and malar-submalar shell implants is the intervening area over the zygomatic arch and immediately beneath it into the lower face. A complete facial wasting surgery includes implantation of this area as well but has to be done with either fat injections or preferably a dermal-fat graft placed through a limited facelift approach. Without filling in this area there can be a step-off in the face behind where the malar-submalar shell implant ends.
Facial wasting treatment is one specialized form of facial reshaping surgery. These procedures allowing for volume restoration of the face hopefully to a level that is close to what they looked like before starting their anti-viral drugs. With a more 'plump' face, one self-confidence is improved, they look healthier and they will be encouraged to stick with their long-term drug therapy.
Dr. Barry Eppley
Indianapolis, Indiana