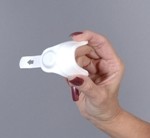 Advanced Bio-Electric Healing Technology
What can I do, as a plastic surgeon, to help my patients recover faster? What can I do to help their swelling, bruising, and pain be less? We use all of the traditional therapies of cold compresses, arnica tablets and gel, elevation of the surgical area, and pain medications. But I have recently added a new option, offering advanced bio-electric therapy (ActiPatch) to help my patients heal better after surgery.
ActiPatch delivers the same pulsed electromagnetic therapy, used by physicians, therapists, and athletic trainers worldwide to reduce pain and swelling and accelerate healing. The traditional clinical treatments of bio-electrics is expensive and inconvenient for most patients. Now, through microchip technology, this home-based therapy is available in a convenient, easy to use, low-cost patch. Applied right after surgery, and used for the first week after surgery, ActiPatch works by driving out the swelling and negative by-products from the damaged tissues. With less swelling, a decrease in pain occurs.
ActiPatch is a wearable technology, is flexible, light weight, and easy to apply and use. Once activated, ActiPatch begins pulsing a continuous low level current to energize damaged cells in the surgical region, helping remove the effects of surgery so you can feel better and look better faster!
ActiPatch has been shown to be effective in reducing pain in breast augmentation, abdominoplasty, blepharoplasty (eyelid), nose and facelift surgeries. I consider it a very useful aid in my Indianapolis plastic surgery practice.
Dr Barry Eppley
Indianapolis, Indiana