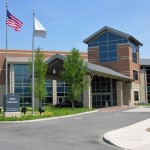 Combination Gynecologic and Plastic Surgery Procedure at IU Health West Hospital in Avon, Indiana
As the field of medicine and surgery continues to advance, I am continually amazed at how different surgical procedures are being done, not only during the same surgery, but at exactly the same time. This is of great benefit to the patient and maximizes valuable operating room time and resources.
An example of such a case was on February 12, 2008 at the IU Health West Hospital in Avon, Indiana. A female patient was initially seen by me in Plastic Surgery for contouring of her arms to get rid of the flabby skin that inevitably results after a lot of weight loss.. She required formal arm lifts (brachioplasties) combined with liposuction of the area for improvement. She had a gynecologic issue with heavy bleeding and also needed a hysterectomy. The Gyn surgeon and myself worked out a time when we could do the surgery together. Because the operative fields were at 'opposite ends' so to speak, we were also able to work at the same time effectively cutting down the total operative time in half.
I have seen over the years a lot of different combinations of surgeries combined with plastic surgery, but a concurrent hysterectomy-arm lift is a new combination for me. When surgeons work together, patients benefit!
Dr Barry Eppley
Indianapolis, Indiana