Headaches are a common human malady and present in many forms that range anywhere from a minor nuisance to that of being debilitating. One of the more severe headache forms is that of migraines. Being a true neurologic disorder, this type of headache is associated with head pain that is both disruptive and causes dysfunction. While their exact pathophysiologic mechanism remains not well understood, drug therapies remain the mainstay of treatment for which they are numerous prescribed medications. While more recent therapies, such as injectable Botox and nerve decompression surgery, have offered symptom reduction for the most severely afflicted, most migraine patients still rely on oral medications whether they are OTC (over the counter) or by prescription.
A newer and alternative therapy to the treatment of migraines are electroceutical devices. These are external devices that are applied directly over the primary migraine location that use electrical signals to create a neuromodulation effect. While neuromodulation typically refers to the use of chemicals to make the nerve work, an external electrical signal strives to change the function of the nerve to either abort to decrease painful nerve transmissions. Such external neuromodulation devices have been successfully used over the supratrochlear and supraorbital branches of the ophthalmic nerve (first division of the trigeminal nerve) in frontal migraines using transcutaneous electrical nerve stimulation (TENS) to reduce the severity or prevent episodic migraines. However, the TENS approach has also been shown to have patient compliance issues due to skin irritation and the unpleasant tingling nature of the electrode contact with the skin.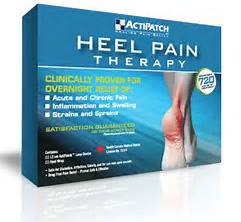 Another potential electrocuetical device is that of ActiPatch. This external device uses low-power electromagnetic energy through pulsed shortwave therapy technology (PSWT) to deliver its energy into tissue at a rate of 1000 times a second. This device has no user problems or discomfort and has no known harmful side effects associated with its use. The ActiPatch device was recently approved by the FDA for over-the-counter use to treat pain from knee osteoarthritis and plantar fasciitis. Like migraine headaches, knee osteoarthritis and plantar fasciitis are conditions associated with aberrant peripheral nerve sensitization. Therefore it is reasonable to assume that the Actipatch device may have some therapeutic value in the treatment of migraine headaches as well.

The Actipatch migraine study device consists of a small battery-operated coil placed inside of a head band. The device is oriented when the headband is placed directly over trigger site of the migraine. (occipital, temporal or frontal) We are currently seeking patients to participate in a clinical study to evaluate the potential benefits of the Actipatch device in the treatment of migraines. This is a non-reimbursed study in which the specially designed migraine treatment devices will be provided at no cost to the patient to try over a time period specified in the study protocol. Before and after questionnaires will be used to determine patient responses to the treatment based on the pattern/frequency of their migraine headaches. Interested patients may reply to the following email address to determine if they wish to participate. (inquiry@eppleyplasticsurgery.com)
Dr. Barry Eppley
Indianapolis, Indiana