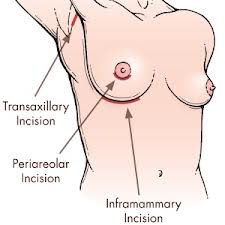 Breast augmentation requires the placement of an implant to create its desired effects. To put the implant in place, a skin incision is needed of which the three standard options are the inframmary crease (lower breast fold), the areolar area (nipple) and a transaxillary (armpit) location. Each of these breast implant incisions have their own unique advantages and disadvantages but does this location play any role in increasing or lowering the risk of breast augmentation complications?
Plastic surgeons usually have their incision preference and patients often do as well. Surgeons choose their choice of incision based on experience, comfort and the type of breast implant. Patients are exclusively focused on their concern about the visibility of the scar.
In the October 2012 issue of the Aesthetic Plastic Surgery (Journal of the International Society of Aesthetic Plastic Surgery), a paper was published on this issue entitled ' Comparison of Breast Augmentation Incisions and Common Complications'. Over a five year period, the authors reviewed over 600 women who had an isolated primary breast augmentation comparing incision location, implant type and location and postoperative complications. No statistically significant association was found between incision location and complications such as infection, hematoma, implant rupture or capsular contracture. They conclude that all three incision locations are safe for breast augmentation.
Surveys of common practices in breast augmentation surgery show that that nearly two-thirds of plastic surgeons choose the inframammary incision. The periareolar and the transxillary incisions make up the remaining one-third with most of these being the periareolar. Most of the time patients do not have a particular preference and will go with the incision the plastic surgeons recommends. In those patients that have a preference it is almost always the transaxillary approach and it is because they have opted for a saline-filled implant.
While the plastic surgeon and the patient may have their incisonal preferences in breast augmentation, the lack of complication differences between any of them allows each approach to be used based on perceived other advantages.
Dr. Barry Eppley
Indianapolis, Indiana