There are two effective and well established techniques for either buttock or hip augmentation. They are either fat injections using your own liposuction harvest  (Brazilian Butt Lift) or soft silicone elastomer implants that can neither rupture or leak. Each has their own advantages and disadvantages, as does every surgical technique, but both may not be appropriate considerations for every patient. For some only fat injections will work and for others implants may be the only option. Each patient must be considered individually based on their anatomy and the desired buttock or hip augmentation size they want to achieve.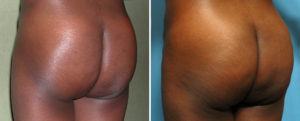 Fat injection augmentation is, by far, the most commonly performed buttock/hip augmentation method because of its natural appeal, the side benefit of the body contouring from the liposuction harvest, and a quicker recovery. It has few real complications other than how well it works. The key qualifier is how much fat does one have to harvest. For those that try to gain weight for the surgery, be aware that the fat that you will lose first will be that which was gained as you return to your baseline weight…and it will be from your buttocks. Thus gaining weight for a Brazilian Butt Lift is a flawed approach. You either have enough fat to do it or you don't.
In addition, at least 50% of the injected fat will be absorbed within months after surgery regardless from what part of the body from which it is harvested. This can even occur despite the best harvest and concentration methods. As a general rule, for every 1000cc (or liter) of fat that is harvested only about 30% to 40% will distill down to what should be injected. Better fat concentration equates to improved survival but a lower total volume of fat available to be injected.
When you simply don't have enough fat, an implant approach is the only option. And that is how the decision for an implant should be primarily made. Buttock and hip implants have been around for a while now and the quality and size options of implants are so much better today. The implants are very safe but where they are placed and the surgeon's skill and experience in placing them can significantly impact the rate of potential complications. Because they are implants, by definition, they will have a higher rate of complications (infection, hematoma, capsular contracture) than that of fat injections.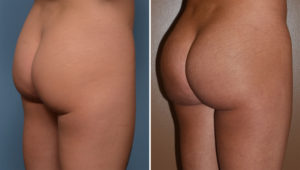 Implants will also have a longer recovery because placing them is more 'invasive' and involve areas that impact functions such as sitting and walking. Specifically for buttock implants, they should be placed within the gluteus maximus muscle. In this location, the implant will not be able to be felt nor sag or migrate later. Buttock implants on top of the muscle have an easier recovery but carry with it a higher incidence of problems later.
If you are a borderline candidate for fat injections or are uncertain if you have enough fat, make sure you have a consultation with a plastic surgeon that provides both fat and implant methods of buttock and hip augmentation. In this way your surgeon has no bias either way and will have enough experience to choose which method is best for you… rather than just the method or surgical procedure that they can do. There is no doubt that just about every buttock augmentation patient wants to use their own fat and it is easy to fall into the trap of hoping it will work out when it may never have had a chance to be as successful as you wanted.
There is also a combined approach with implants placed in the muscle and fat injections added above the muscle in the subcutaneous fat layer.  This may be considered when one only has a modest amount of fat to harvest but a very flat buttocks and wants to maximize volume. This makes anatomic sense and can be successfully done. There is the question of whether it should be done together or as a staged technique. This must be considered on an individual basis as there are some increased risks of implant infection.
Dr. Barry Eppley
Indianapolis, Indiana