Background: Sagging or ptosis of the breasts is seen in s wide variety of forms, all of which can influence breast augnentation results. Severe or Grade III and IV breast ptosis is an easy breast lift decision to make as there is no other choice. Grade I breast ptosis is also an easy decision as breast implants alone will have a lifting effect on its own.
The intemediate or Grade II breast ptosis is challenging decision. A breast lift will provide the needed upward change of nipple position but will create undesired scars in so doing. Implants will avoid visible breast scars but may make the appearance of the breast worse with a lot of upper pole fullness but a nipple-areolar complex that is oriented more to the lower pole of the breast.
Case Study: This 34 year-old female presented for breast implants. She knew she had a bit of breast sagging but did not want any scars that went beyond the margin of the areolas
Under general anesthesia she had 400cc smooth silicone breast implants placed through small inframammary incisions using a funnel technique. At the same time nipple lifts were performed by removing a superior crescent skin at the superior aspect of the areolas of 1 cm in height at the central aspect.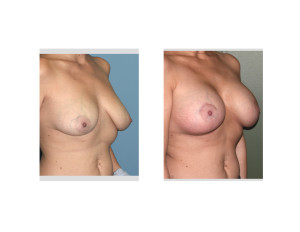 Small to moderate degrees of sagging pose issues for optimal breast augmentation results. Many patients understandably think that implants will have a breast lifting effect which is only true if the nipples are right at or above the inframammary fold level. Often in more minor amounts of sagging the patient may not even recognize that they are 'droopy' since they may have been that way for a long time.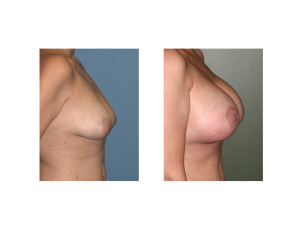 The nipple lift, formally called a superior crescent mastopexy, is not a true breast lift. It is really a nipple edge relocation procedure. While it may not centralize the nipple during the placement of breast implants, it can prevent it from having a worse and lower mound position after its enlargement.
Highlights:
1) Ptosis or sagging of the breasts is not usually fixed by breast implants alone.
2) Borderline breast lift patients can be treated by a superior crescent mastpexy (nipple lift) with their breast augmentation.
3) Nipple lifts offer an alternative option to the scars of a more formal breast lift albeit with a much less lifting effect.
Dr. Barry Eppley
Indianapolis, Indiana