Background: Breast reduction persists as one of the most common of all body plastic surgery procedures. Breasts that are too large  and heavy are common and ultimately the back shoulder and neck pain that they create is best relieved by making the breasts smaller and more uplifted. The improvement is musculoskeletal symptoms is as much the  result of the lift as it is from the volume of breast tissue removed…contrary to popular perception.
Many patients ask whether there is a lift that is done with the breast reduction or whether the breast reduction leaves the breasts smaller but still hanging. When looking at the design of how a breast reduction is done, the marked skin pattern that is drawn on the breasts represents the lift that will result. Thus a breast reduction can not be done without a breast lift but a breast lift can be done without a breast reduction.
Case Study: This 44 year-old male had always had large breasts since she was a teenager. But with getting older and having children her breasts actually became somewhat larger but had fallen and gotten very heavy. They were now so large that she was embarrassed to wear a swimsuit and would not do any water sports which her family loved to do.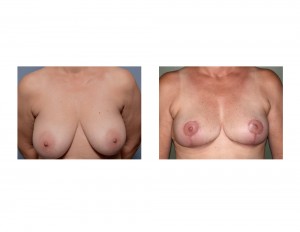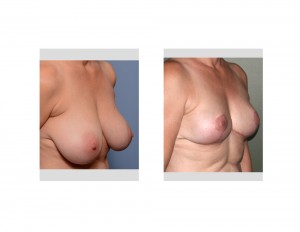 Under general anesthesia, an inferior pedicle breast reduction was performed. The amount of breast tissue removed was 450 grams per side. The amount of skin removal and tightening exceeded visually the amount of breast tissue removed. The areoalas were reduced in diameter from 65 mms to 40 mms in diamater.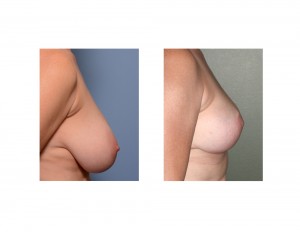 Her postoperative results showed much smaller and more uplifted breasts. She was thrilled with the result as she felt more comfortable with her breast size and could now resume all water sport activities with her family. Like all breast reductions and/or full breast lifts the scar burden is significant but well worth the tradeoff for the psychological and pain relief benefits.
Highlights:
1) Every breast reduction is a breast lift also. Thee relief of musculoskeletal symptoms is a result of a combination of both effects.
2) Breast reduction produces a fair amount of breast scarring but is usually viewed as a worthwhile tradeoff.
3) Nipple sensation preservation through retained attachment and mound relocation is usually successful.
Dr. Barry Eppley
Indianapolis, Indiana