Background:  A tummy tuck is a remarkably effective procedure that achieves its effect through wide excision of loose abdominal skin and fat and underlying muscle tightening. The raising of the upper abdominal skin flap to cover the removed lower abdominal tissue creates a large surface area of wounded tissue. This results in an expected serous fluid leak from these injured wound edges after surgery. This has been the historic reason that drains are placed during tummy tuck surgery and maintained for variable periods of time in the early healing period.
While there has been a recent trend towards the concept of the drainless tummy tuck, which strives to slow down or eliminate abdominal seromas through the use of quilting sutures, the risk of a subsequent fluid collection is not zero. Drained and drainless tummy tucks both have abdominal seroma risks.
The typical and usually very effective treatment for a seroma is needle aspirations and time. Once the internal tissues heal more the fluid leak usually ceases. In some cases a drain may be placed if the needle aspiration volumes are persistently high. But in very rare cases fluid colletion persist for a very long time or seemingly redevelop in an abdominal area with a prior history of a fluid collection.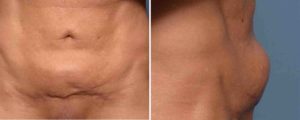 Case Study: This 50 year-old female had a history of having a tummy tuck nearly two years previously with the prolonged use of a drain. (8 weeks after surgery) Thereafter, she had a persistent area of firmness between the belly button and the lower abdominal scar line but it remained flat for a long time. Then six months ago (1 1/2 years after the surgery) the area mysteriously began to enlarge. She underwent radiofrequency treatments by her initial surgeon but it did not help and the area kept getting bigger.

Under general anesthesia, a skin excision pattern was marked out for removal of excess skin that have been created from the expanding abdominal mass. The original tummy tuck scar was opened and dissection was carried down until a dark mass was encountered. This was an obvious encapsulated mass which expressed a large amount of dark fluid when it was entered. The cavity opened revealing a very thick encapsulated  lining on the abdominal fascia and into the overlying subcutaneous fat. The entire capsule  was removed, quilting sutures used and a small drain placed. The excess skin was removed, in the form of a mini-tummy tuck, and the outer abdomen thus re-tightened.
A delayed chronic seroma after a tummy tuck is very rare. This is only the second one that I have ever seen. They both have been associated with an early persistent fluid collection that either required prolonged use of a drain or the need for frequent needle aspirations. A firm abdominal mass that persisted thereafter for a long time as a bulge would represent an original undrained seroma. But this case represents an area that was flat (albeit firm) and then started to grow long after surgery. The exact mechanism for this phenomeon is not clear but its treatment would be the same for a chronic seroma that persisted much earlier after surgery.
Highlights:
1) The most common 'complication' after tummy tuck surgery is  seroma or fluid collection.
2) Most abdominal seromas are solved through healing time, needle aspirations and, ocasionally, the use of drain.
3) A chronic seroma is a very rare late tummy tuck complication that appears months to years later as a firm abdominal bulge that must be treated by open excision.
Dr. Barry Eppley
Indianapolis, Indiana