Background: Most body implants are done for muscular enhancement. The only exception is that of the female breast implant. In augmenting the muscle size, it is usually most effective if the implant is placed on top of the muscle under its fascial lining. This is certainly true for muscular augmentations that are on the extremities such as the arms and legs. The gliding nature of the muscle inside the fascial sheath allows for a good dissection plane into which the implant can be inserted.
Bicep implants are one of the most uncommon body implants done. While men often seek out larger arm muscles, the appeal of a bicep implant remains limited. This is undoubtably due to the few surgeons that do them and the lack of a good implant which together offers limited public awareness and demand for the procedure. The shape of the bicep muscle is not unlike that of the calfs so the overall implant shape is largely cylindrical.
While there are no true marketed bicep implants, the most common form of them are known as contoured carving blocks. (Implantech) These solid implants come in half cylindrical shapes that go up to 2 cms in length and 6.5 cms wide. The maximal projections are around 2 cms. These implant dimensions will work for most. but not all, patients who seek upper arm augmentation.
Case Study: This 45 year-old male was to undergo multiple body contouring surgeries, one of which was bicep implants. He was a larger man in stature so even the largest contoured carving blocks were inadequate. Custom bicep implants were made of dimenions 18 cm long, 8 cms wide and 3.5 cm in projection. The attached picture shows the difference between a preformed large bicep implant and that of the custom designed one.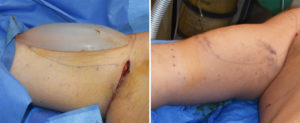 Under general anesthesia, the custom bicep implants were placed on top of the bicep muscle under the fascia through a high axillary incision.
His results at two months after surgery show good muscular augmentation with symmetrical implant positioning. The axillary incisions were well healed. He had no restriction of arm flexion or extension. He had just begun back to working out again.
While most bicep implants can be using conventional preformed shapes and sizes, larger men or those that seek more significant arm muscle size may need to consider the custom implant approach.
Highlights:
1) Bicep implants are soft solid implants that are placed in the subfascial location on top of the muscle through an axillary incision.
2) Bicep implants comes in several different sizes but larger dimensions requite a custom implant approach.
3) Custom bicep implants are made based on measurements of the patient arms in the partially flexed position.
Dr. Barry Eppley
Indianapolis, Indiana