Background: Lip augmentation is one of the most popular non-surgical facial enhancement procedures. Done primarily by synthetic injectable fillers the size of the lips can be increased for the duration of the filler's persistence. When skillfully done injectable fillers can create a myriad of perioral effects from lip size increase, correction of lip asymmetries and corner of the mouth lifts.
The effectiveness of fillers in the lip is based on having enough vermilion height so it can be expanded superiorly as well as outward. When the lips are very thin with a small amount of vermilion show, the push of the fillers is going to more outward than upward. This creates the dreaded 'ducklip' effect in which the lips are disproportionately balanced between their projection and height.
With poor responses to fillers in thin lips, changing the location of the vermilion border is the most effective approach. This his known as a lip advancement procedure and can be done on both the upper and lower lips. It is particularly effective in vermilion height asymmetries due to the ability to precisely change the location of the vermilion-skin border line.
Case Study: This 35 year-old female wanted bigger lip but also correction of her natural upper lip asymmetry. She previously had a congenital nevus removed from the left side of her upper lip which further contributed to her natural lip asymmetry. She had injectable fillers placed into her lips numerous times in the past but didn't want to continue with that recurring expense.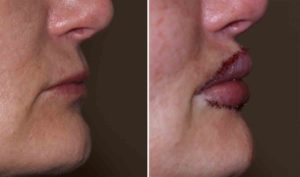 Under local anesthesia with infraorbital and mental nerve blocks, lip advancements were performed. A 3mm lower lip advancement and an asymmetric 5/3.5mm upper lip advancement were performed combined with corner of the mouth lifts through a triangular skin excision. At the end of the procedure, the instantaneous size increase and improved lip symmetry could be seen. Between the use of local anesthetic and swelling, the lips looked enormous in size at the completion of the procedure but this will recede to a more normal appearance in 10 to 14 days later.
Highlights:
Lip advancements are the most powerful surgical form of lip augmentation as they affect the whole lip from corner to corner.
Lip advancements are the most effective form of lip asymmetry correction whether it is a partial or complete advancement.
Upper and lower lip advancements done together create the most dramatic effects even at 3mm to 4mms of advancement per lip.
Dr. Barry Eppley
Indianapolis, Indiana