Background: Aging begins around the eyes early in life and continues unabated up through one's senior years. This periorbital aging is manifested by the creation of extra eyelid skin which is caused by the stretching of the thin eyelid skin due to frequent movement. As the redundant eyelid skin becomes excessive it weighs down the upper eyelid. Known as hooding it essentially creates folds of skin that lie on the eyelashes pushing the lid margin downward.
Between of the weight of the eyelid skin and its folding over the lashline, an obstruction of the upper visual field results. This is often not even noticed by the individual because the visual field loss is so gradual. Getting lower and lower over the years, the loss of incoming light from a gradually smaller visual field is just credited to a naturally weakening vision with age.
With this upper eyelid hooding and visual field obstruction comes accompanying forehead wrinkles. While some of these horizontal forehead wrinkles are due to lifelong facial expressions, some of them are due to a constant holding of the eyebrows upward to lift some of the skin off of the eyelids, making one able to see better. Such browlifting is often inadvertent and unnoticed by the individual.
Case Study: This 76 year-old male wanted to improve the appearance of his eyes. He said he was frequently told he looked like he was squinting all the time. He felt he looked old and that some eyelid surgery may be beneficial. He wore glasses and had no symptoms of dry eyes.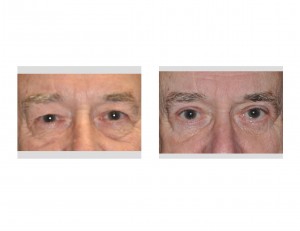 Under general anesthesia, a large excisional skin-only upper blepharoplasty was done. No orbicularis muscle was taken. The lower eyelids were treated by the raising of skin-muscle flaps, excision of protruding fat pockets, lateral canthopexies, conservative skin removal and orbicularis muscle suspension suturing.
After surgery he had excellent improvement in appearance of both upper and lower eyelids. He felt he could 'see' better and that there was more light wherever he went. He did have a minor complication of some lower eyelid irritation and lower eyelid sag at the corners which took about two months after surgery to completely resolve.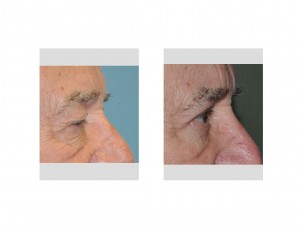 Blepharoplasty (eyelid lifts) in older patients can offer great improvement in appearance and even function. But the lower eyelid must be handled very carefully as it is at high risk for after surgery lid malpositioning. (ectropion) Even when handled well (limited skin removal, tendon tighening and muscle suspension), many older patients will experience  temporary period of lower eyelid lag symptoms.
Case Highlights:
1) Advanced aging around the eyes creates severe upper eyelid hooding, upper visual field obstruction and redundant lower eyelid skin with sagging.
2) When the amount of excessive eyelid skin is considerable, the eyes can look small and one can appear to be continuously 'squinting'.
3) Upper and lower eyelid lifts (blepharoplasties) can create considerable improvement, opening up the eyes and making them feel less heavy.
Dr. Barry Eppley
Indianapolis, Indiana