Background: While contouring by fat reduction is a very common aesthetic approach for the body, it is must less frequently done in the face. Between the much proportionally smaller amount of fat and the restricted access to it by the facial nerves, the amount of facial contouring by fat reduction limits how much facial reductive shaping can be achieved.
While facial fat reduction is more limited, this does not mean visible and aesthetically useful changes can not be achieved. The key is to recognize the four facial fat zones (buccal, perioral, submental/neck and jawline) and treat them as needed. In many cases all four facial fat ones should be treated to optimize contouring around the facial bones and/or implants being placed.
The most recognized facial fat reduction procedure is the buccal lipectomy. It is a unique encapsulated fat collection that sits directly under the cheekbone. Because of its encapsulated nature and size, it offers an impressive amount of fart removal for one facial area. But its external facial reduction effects are often over estimated. It only provides reduction in the submalar cheek area and not down any lower like down by the mouth. This misconception often leaves patients disappointed when they do get a more complete inward contouring effect more towards the jawline.
This is where the role of perioral liposuction provides an additive benefit to the buccal lipectomy. Often called perioral mound liposuction, to reduce prominent fatty mounds by the side of the mouth as a stand alone procedure. It can be used, however, even when well defined perioral mounds are not present.
Case Study: This young male wanted to contour his face for a more well defined look with reduction of the convexity between the cheeks and he jawline.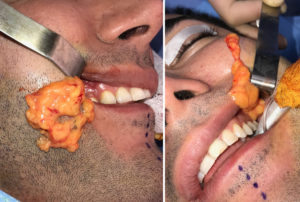 Under general anesthesia, bilateral buccal lipectomies were performed through a high 1 cm maxillary posterior vestibular mucosal incision. After passing through the buccinator muscle, the encapsulated fat pad was found and gently extracted cauterizing its vascular pedicle at its base.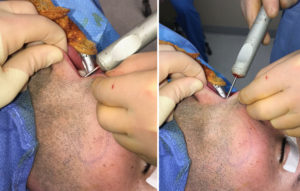 Then through a small incision inside the corner of the mouth a 2mm cannula was used to aspirate the subcutaneous fat layer between the skin and the buccinator muscle in a wide fanning fashion from the mouth corner.
The combined effects of buccal lipectomy and perioral liposuction crests an immediate effect slimming effect on the treated facial areas. There will be some swelling in the first few days that will mask these immediate effects, such facial slimming effects will return in a a few weeks and even more so in the months to follow.
Highlights:
1) Optimal facial contouring by fat reduction must treat all four facial fat zones.
2) Buccal lipectomy alone often produces an incomplete reduction between the cheekbones and the jawline.
3) Pairing perioral liposuction with buccal lipectomies provides complete fat reductive  contouring of the midface. (facial slimming effect)
Dr. Barry Eppley
Indianapolis, Indiana