Background: A cleft through the upper lip always affects more than just the lip. As the cleft cuts through the nasal sill on its way back through the alveolus and palate, the nasal structures above it are altered in very predictable ways. The internal septum deviates towards cleft side, the contralateral inferior turbinate enlarges, the ipsilateral lower alar cartilage slumps, the nostril base widens and retracts inward, and the columella and tip of the nose tilts to the cleft side. Even high up above the cleft the nasal bone on the cleft side  is affected, being wider and lower.
A cleft rhinoplasty to be successful must address many of these structural disturbances. Supporting the tip of the nose and nostrils against overlying skin which has historically been distorted, and even deficient, requires the creation of cartilaginous structures to push out on the skin and resists its memory. Cartilage grafting is paramount and the best grafts as possible need to be obtained. A septum that has never been operated on is ideal but this is not always the case. When in doubt a small rib graft is always the go to graft in cleft rhinoplasty.
Cartilage grafting in the nose has a variety of well known graft locations and names. But in the end the tripod construct is what is needed ensuring that a columellar strut, spreader/dorsal grafts and batten or alar rim grafts are needed to help create a better shaped and projecting nasal tip. Even with the creation of the best underlying cartilage framnework, cleft rhinoplasty results can be very humbling.
Case Study: This 15 year-old female was born with a right complete cleft lip and palate deformity. She has been through primary lip and palate repairs as an jnfant  as well as secondary alveolar bone grafting and tip rhinoplasty as a young child. As a teenager she sought a more definitive nose reshaping procedure.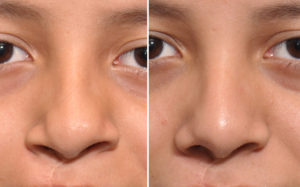 Under general anesthesia and through an open rhinoplasty approach, the septal deviation and cartilages were obtained coming down through the anterior septal angle.  The contralateral inferior turbinate was also reduced. Spreader, columellar strut and cleft- sided batten cartilage grafts were used. The right nasal base was also moved down and inward.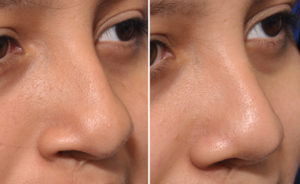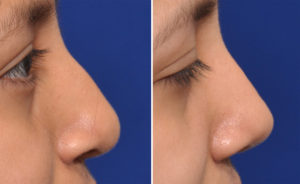 Her longer-term results shows definite improvement in the shape of the nasal tip and nostrils. But her thicker nasal skin precludes as much refinement as one would have hoped.
Highlights:
A more formal cleft rhinoplasty can be done as easily as the mid-teens.
Most cleft rhinoplasties need cartilage grafts and the septum is the best source of strong straights grafts if possible.
Rebuilding/add support to the cleft nostril is the cornerstone to rhinoplasty in most cleft patients.
Dr. Barry Eppley
Indianapolis, Indiana