Background: The abdominal pannus is a well known medical condition of a large overhanging apron of skin and fat that extends well beyond the waistline. Technically the proper term is a panniculus but it is far more commonly referred to as a pannus. What defines a pannus is how large the actual overhang is.
There are five degrees of an abdominal pannus from a grade 1 that rests on the mons pubis to a grade 5 that hangs down to the knees. While no abdominal pannus is pleasant for the patient the grade 5 pannus is the most disabling. It not only obstructs the urinary stream and causes associated hygiene issues but its sheer weight makes mobility difficult. It causes tremendous strain on the back and knees and leads to early deterioration of both.
An abdominal panniculectomy procedure should not be confused with a more traditional tummy tuck. The scope of the problem being treated would indicate such but how the operation is performed and under what circumstance is also vastly different. This is no more manifest than in the massive type 5 abdominal panniculectomy operation.
Case Study: This 40 year-old male reached out from Canada because he could not find a surgeon to perform his abdominal panniculectomy procedure.  He had a prior gastric bypass which dropped his weight from over 500 lbs down to 325lbs.  This resulted in the creation of a massive type 5 pannus. Surprisingly he had no otherwise medical problems. Because of chronic skin infections and urinary obstruction he had been to the hospital numerous times. But despite his obvious need for a surgical solution, he stated that no one would take on his case because it was too dangerous or difficult.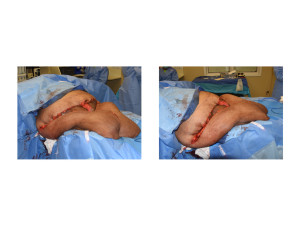 Under general anesthesia a large portion of his abdominal pannus was removed in two sections.  Its total weight was 40 lbs.  It was determined before surgery not to reconstruct his umbilicus. The long umbilical stalk and the umbilical hernia created by its removal were repaired. Closure was done over a large single drain.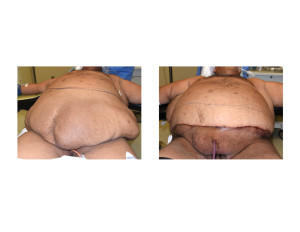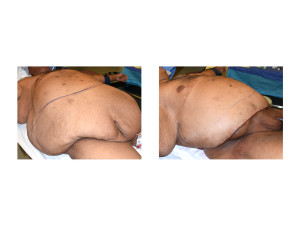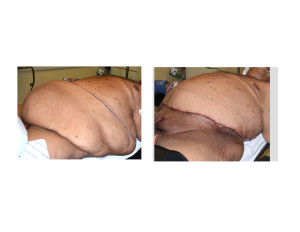 He stayed overnight in the facility and was released to a hotel the morning after. He remained in town for one week for monitoring and flew back to Canada thereafter. His drain will be removed at home after two weeks.
Large abdominal panniculectomies are challenging for a variety of reasons. Their sheer size makes intraoperative positioning and maneuvering difficult. There are many large blood vessels that supply the abdominal pannus and intra- as well as postoperative bleeding is always a risk. The operation needs to be performed as expeditiously as possible to get the patient off the operating room table as soon as possible. When performing the operation as just an overnight stay, the patient must have few other medical problems and be motivated to get up and moving as soon as possible after surgery. Drains are always needed and should stay in at least several weeks. For the out of town patient this means that they will have to get some medical care at home to get it removed.
Highlights:
1) Large abdominal panniculectomies can be safely done in an outpatient surgery center if the patient is otherwise healthy.
2) Enough abdominal pannus is removed to relief the obstruction on the pubic area and eliminate any overhang on the groin creases.
3) The most likely complication from any abdominal panniculectomy is a seroma or fluid collection.
Dr. Barry Eppley
Indianapolis, Indiana