Background: The buffalo hump is a descriptive term that universally applies to a discrete collection of fat on the back of the neck. Looking at the American bison it is easy to see why it has its name with the massive shoulders of the animal being amongst its most distinct features. But unlike the bison, the human buffalo hump is not muscle but fat.
The dorsocervical collection of fat in humans both unusual and distinct for two reasons. First, it is not a typical location for fat to deposit as it is not known for being a metabolic depot site. It may reflect the congenital location of brown fat which is known to be present in newborns but diminishes with age. Secondly what activates the enlargement of the dorsocervical fat pad is not precisely known. Certain medications and illnesses are associated with its development but it can also occur in people who do have these drug or disease associations.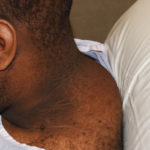 Case Study: This 22 year-old male presented for treatment for his large buffalo hump deformity. He was a large adult man (almost 300lbs) but he did not have any of the associated triggers for its development. It caused him neck pain and restricted his neck extension. He was also socially embarrassed by it.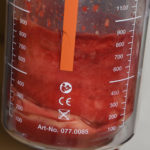 Under general anesthesia and in the prone position,  a three-hole liposuction approach was used. Using power-assisted liposuction with baskets as well as smooth round-tipped cannulas the very dense fibrofatty tissue was aggressively treated with an aspirate volume of just under one liter. (900ccs)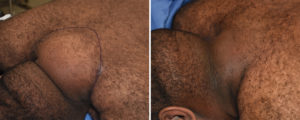 His immediate result during surgery showed the degree of improvement which largely made the back of his neck flat again. Unfortunately there are no good methods of after surgery compression for the back of his neck so he will have considerable swelling which will take more than a month to return to this intreoperative result.
The traditional method of buffalo hump reduction was open excision. Due to its very dense fibrofatty tissue it was felt that liposuction could not get an adequate reduction. And if one was using traditional 'elbow-driven' liposuction this would still hold true. But today's many power-driven liposuction technologies make it possible to reduce denser and more fibrous fatty areas like the buffalo hump. While not every case has such dense fibrous fat many buffalo humps do.
Highlights:
The buffalo hump deformity is an abnormal development of fat in the dorsocervical fad pad.
It is a often a dense fibrofatty tissue that requires a mechanized or energy-driven liposuction method for removal.
An open excision of the buffalo hump can usually be avoided.
Dr. Barry Eppley
Indianapolis, Indiana