Background: Reduction of large breasts is one of the most common body contouring procedures in plastic surgery. It has been around in various forms for almost one hundred years. It is a uniformly successful procedure for reducing the back, neck and shoulder pain that typically accompanies large sagging breasts as well as positioning the breasts back up on the chest wall.
By the way it is designed every breast reduction procedure is also a breast lift. While a breast lift can be done without a breast reduction, the reverse is not true. A reduced amount of breast tissue means that the skin that contains it also must be less. The markings made on the skin before surgery is the breast lift part and is a very mathematical and precise part of the procedure. The reduction of the breast tissue is internal and is much more of an artistic technique rather than one that lies on measurements of angles and linear distances.
Breast reduction in older mature women. often has a slightly different flair to it. Women that have had large breasts all their life, and who have finally come to the point of wanting them smaller, usually want a more aggressive reduction. The need for symptomatic paint relief and the desire to look less matronly mandate that larger amounts of breast tissue be removed.
Case Study: This 65 year-old female had large breasts her whole life. (DD + cup size) She had three children and her breasts always ended up looking about the same afterwards albeit a bit more droopy. She was 'over' having large breasts and wanted the freedom in its clothing and exercise to have more freedom of choice.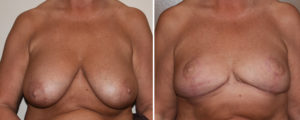 Under general anesthesia an inferior pedicle breast reduction was performed with the removal of approximately 800 grams per side. Her nipple-arolear complex was raised 9 cms from a 30 cm length from the sternal notch to the nipple to a 21 cm length.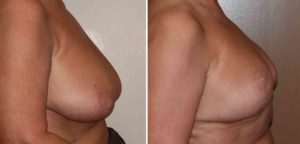 Older women are almost always more concerned about having a 'maximal' reduction procedure on their breasts than they are about having a fuller lifted shape. As  long as they sit much higher up on they chest wall with a more centered nipple with a low volume, they will enjoy the benefits of less to no musculoskeletal discomfort and the freedom should they so choose to even go without a bra.
Highlights:
Breast reduction in older women is often a 'maximum' reduction and lift procedure.
Getting reduced breast tissue back up on the chest wall is ultimately what causes a reduction in musculoskeletal symptoms.
The inferior pedicle breast reduction technique offer a reliable and safe method for larger breast size reductions.
Dr. Barry Eppley
Indianapolis, Indiana