Background: The nasopalatine cyst is a well known pathology of the maxilla that often presents as an asymptomatic anterior palatal swelling. It usually develops behind the maxillary incisors and is thought to be caused by the ductal tissue within the incisive canals. It appears radiographically as a round or heart-shaped mass in occlusal plane or 2D CT x-rays or as a very distinct round tumor in 3D CT facial scans. While benign it can cause significant bony erosion through its expansile growth.  By the time it appears as an anterior palatal swelling the amount of bony destruction is significant.
Treatment of the nasopalatine cyst is done through excision by raising a posteriorly based soft tissue flap. When removing the cyst lining from the palatine bony defect it is important to get all of the cystic lining up into the nasopalatine ducts to prevent recurrence. When the resultant bony defect is small no reconstruction is needed. But by the time a nasopalatine cyst is discovered the bony defect is large and ensuring bony fill is often needed to provide hard tissue support to the maxillary incisor teeth. While an autologous bone graft is ideal patients understandably would like to avoid a graft harvest.
Demineralized bone substitutes as well as hydroxyapatite synthetic grafts are appealing in the facial bony defect that has good vascularity and numerous walls to contain it. This may be enough for some patients but agents that can accelerate or magnify the bony response are appealing. One such healing is that of platelet-rich plasma.
Platelet-rich plasma (PRP) has been used in a wide variety of bony and soft tissue applications to expedite healing and tissue repair. As an extract of a patient's blood, the platelet concentrate is known to contain powerful growth factors which are important participants in the wound healing process. PRP undoubtably has its greatest effect when it is combined with other natural tissue grafts such as bone and fat grafts. But it can also be useful with allogeneic and synthetic type grafts which have no cellular component and rely heavily on the body providing the proper healing milieu.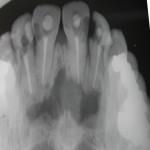 Case Study: This 26 year-old female presented with a painless swelling of her anterior palate. It measured 3 x 3 cms. She had a prior history of dental trauma as a teenager that resulted in endodontic treatment (root canals) of her anterior incisor teeth. An occlusal radiograph showed an irregular radiolucent mass of the anterior palate. She did not want a bone graft harvested should it be needed.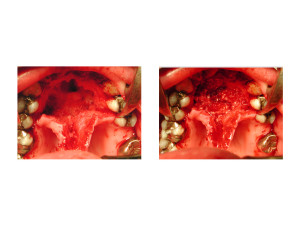 Under general anesthesia the anterior palate was exposed by raising a soft tissue flap. The cystic mass and its lining were removed down to the apices of the roots of the teeth. This left a bony defect that partially exposed the palatal surfaces of the tooth roots. Reconstruction of the bony defect was done by a combination of hydroxyapatite granules and PRP. She went on to a completely healed wound with teeth retention and stability.
Hydroxyapatite granules is one of the oldest synthetic bone grafts that can still be successful to its inorganic calcium phosphate similarity to natural bone. When mixed with PRP the surrounding bony ingrowth into the material is accelerated ensuring a rapid and complete bony fill of the defect.
Conclusions:
Nasopalatine cysts can develop from periapical abscesses/non-viable tissue from teeth that had previously undergone root canals.
Excision of the complete nasopalatine cyst is necessary for a long-term cure without recurrence.
PRP mixed with synthetic bone grafts can be successful reconstruction strategy for larger maxillary bony defects.
Dr. Barry Eppley
Indianapolis, Indiana