Background: The size of the implant chosen is the single most important decision from a patient's perspective. More time is spent on this aspect of the surgery than other factors such as implant type, pocket location, implant profile or even the surgeon performing the procedure.
How to match implant size to the patient's goals, however, is not an exact science. The single best method in my experience is the use of volumetric sizers which can be tried on the patient's breast before surgery. This certainly creates  a close approximation and almost never risks choosing an implant that ends up being perceived as too small.
One of the major goals for some women is to ensure that their chosen breast implant creates a sustained full upper pole. The desire is to have a rounder looking breast augmentation whose volumes appear equal in both the upper and lower poles. While it is commonly perceived that a high profile will ensure that occurs, and it definitely helps, but the volume of the implant ultimately makes the greatest contribution for this look.
Case Study: This 44 year-old female wanted breast implants and desired a full round look that also created cleavage. She had smaller B cup breasts with firmer skin  and just a touch of mild sagging. (non-centric nipples) Her preoperative sizing showed a 600cc plus implant size selection.

Under general anesthesia and through an inframammary incisional approach, a partial submuscular pocket was created and sizers inserted. That were inflated up to 650cc at which point the pocket was very tight. The sizers were removed and replaced with high profile 650cc silicone implants inserted with a no-touch funnel technique.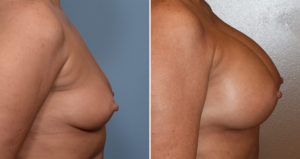 Her six week after surgery result showed a round breast augmentation result with equal distribution of volume both above and below the nipple.
While the projection or profile of a breast implant has value it remains secondary to implant volume. Filling the created implant pocket fully is the most assured way to have a rounder breast augmentation result.
Highlights:
The selection of breast implant size is based own numerous factors but the most important one is what the patient's goals are.
Creating persistent upper pole fullness is related to both implants size and implant position.
Filling up the implant pocket fully will create a rounder and higher breast look.
Dr. Barry Eppley
Indianapolis, Indiana