Background: Routine chin deficiencies are well managed by with an implant or a sliding genioplasty. The concept of a routine chin augmentation, in my experience, generally falls into a horizontal chin position movement of 10mms for less. Once the aesthetic need becomes greater than a centimeter there is undoubtably an overall lower jaw skeletal deficiency that should ideally managed by a combined orthodontic-orthognathic surgery approach.
But some lower jaw deficient patients will never undergo movement of the entire lower jaw and teeth positions for a variety of reasons. They may appear just for chin augmentation only as a camouflage approach to their lower facial deficiency.
While a large chin implant can be used, most standard chin implants do not provide more than 10mms of horizontal advancement. While larger custom chin implants can be made, such a load of synthetic material on the chin may exceed the soft tissue stretch to safely accommodate it. The projection off such a large chin implant may also appear unnatural with a much thinner jawline behind it.
A sliding genioplasty can usually exceed 10mms if the bone thickness will allow it. I have seen it often go to 14 to 16mms. But in such large tiny chin movements there will be pronounced stepoffs on their sides and the labiomental fold will definitely get much deeper as the bone underneath it has become deeper as the lower chin point comes forward.
Case Study: This young male has a large chin deficiency with a skeletally short lower jaw. From an ideal chin projection standpoint for a male (vertical line dropped down from the lips) he was 22mms horizontally short. Orthognathic surgery was not an option that he wanted to pursue.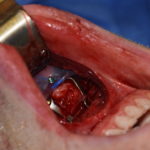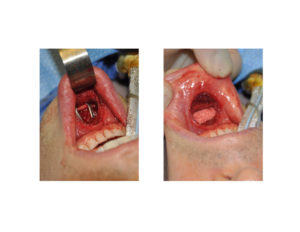 Under general anesthesia, an intraoral sliding genioplasty was performed with 14mms of horizontal advancement based in the limits of maintaining bone contact. (lingual cortex of lower chin segment with buccal cortex of upper chin segment) To add a little extra to the what moving the bone achieved a 5mm extended anatomic chin implant was placed in front of the front edge of the chin bone. The wings of the implant went back along the sides of the advanced chin segment across the step off area. Due to the large step-off created an hydroxyapatite block was placed to prevent a severe deepening of the labiomental fold. (the fold is always going to get deeper in larger chin augmentations, you just want to try and lessen that effect)
The need for a combined sliding genioplasty and implant for aesthetic chin augmentation is rare and is avoided by the traditional use of orthographic surgery. The value of such a chin implant is three-fold; 1) its a small amount of additional horizontal augmentation, 2) its wings can cover up the indentation along the sides of larger sliding genioplasty movements (the concave jawline deformity) and 3) it keeps the chin from looking too thin in the frontal view.
It is not a mortal surgical sin to combine two chin augmentation methods that are often viewed as competitive procedures. Each has their own distinct aesthetic effects and in rare cases may be used synergistically to create a better aesthetic outcome than either one can achieve alone.
Highlights:
Large chin deficiencies are often beyond what a sliding genioplasty or a chin implant can effectively treat alone.

Combining a sliding genioplaty with a chin implant can maximize the amount of horizontal advancement and cover bony step offs on the sides. 

Large sliding genioplasty movements will require fill of the step-off to avoid a severe deepening of the labiomental fold.
Dr. Barry Eppley
Indianapolis, Indiana