Background:  There are a wide variety of congenital ears deformities that involves either deformed or missing natural cartilage structures of the ear. One such well known deformity is that of the Stahl's ear. This consists of an ear that has a pointy shape due to an extra fold or third crus in the scapula. It is often referred to as a Spock part in reference to the Star Trek TV character.
Stahls' ear is primarily caused by the ear cartilage being misshapen. The upper ear usually has two distinct folds known as a superior and inferior crus. But in Stahl's ear a third crus or fold occurs. This causes the outer rim of the upper ear to fold inward giving it a pointed shape.
If recognized very early after birth, external ear molding devices (e.g., Earwell) can correct the misshapen ear as the young ear cartilage is very flexible and moldable. But once one passes six to weeks after birth the ear loses its responsive to external molding forces and surgery becomes the only treatment option.
Case Study: This 12 year-old male had misshapen ears that he disliked. The upper outer helical rim was bent over or folded in. This created a pointed shape to his upper ears. He had been given the diagnosis of Stahls' ear although it was not a classic presentation of it.


Under a general anesthesia an incision was made on the back surface of the ears. This allowed the helical rim skin to be dissected off the cartilage and expose the upper ear cartilage shape over the deformed area. Radial cuts were made in the cartilage to allow it to unfurl and create a more defined outer helical rim. To support this new shape a cartilage graft from a small piece of rib #9 was used by suturing it on the inside of the newly formed helical rim. On the right ear  a small wedge of cartilage and skin was removed to bring down the height of the helix.The skin was then pulled back over the reconstruction and closed with dissolvable sutures.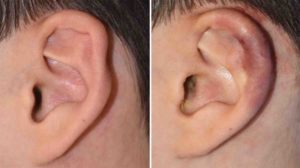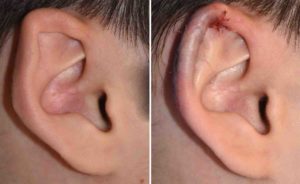 His immediate intraoperative result showed improvement in the shape of ear through recreation of a more defined outer helical rim. While many techniques for Stahl's ear correction have been described they all rely on innate cartilage reshaping alone. Add a small cartilage graft can help support these cartilage reshaping efforts.
Highlights:
Stahl's ear is a congenital deformity marked by an abnormal fold in the upper ear which makes it pointy.
Reconstruction they deformed upper ear requires cartilage reshaping which often requires the use of a cartilage graft for support.
A small piece of rib #9 can be used for a strong and curved cartilage graft.
Dr. Barry Eppley
Indianapolis, Indiana