Background: Aging affects all parts of the face and the mouth area is no exception. The changes of the lips and the perioral tissues are classic and include thinning of the lips, downturning of the corners of the mouth and the development of vertical lip lines. These central facial aging changes are unaffected by more peripheral procedures like a facelift. Rather they require a direct approach to their treatment and are not uncommonly done as part of a facelift to provide a more complete facial rejuvenation effect.
While injectable fillers are the mainstay of younger lip and mouth enhancements, the older aging mouth is less responsive to just pure plumping effects. It needs more help with actual mini-lifting prcedures that are designed just for the lips.
Case Study: This 62 year-old female was bothered by the constant frown of her mouth and the thinning of her upper lip. While she had always had a thinner upper lip, it had gotten even thinner as she has gotten older. Her goal was not to have really big lips but an upper lip that matched the size of her lower lip. But what really bothered her was the downturned corners of her mouth. This made he look mad all the time when she really wasn't.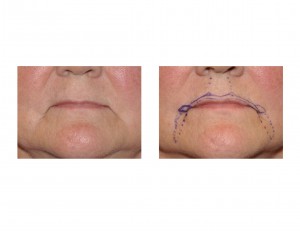 A lip rejuvenation plan was marked out that included an upper lip (vermilion) advancement, corner of the mouth lifts and fat injections into her marionette lines.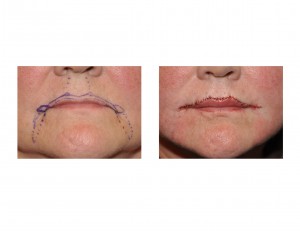 Under local anesthesia which included infraobital nerve blocks and direct local infiltration into the upper lip, a 3mm vermilion lip advancement was initially done with making the cupid's bow area more accentuated. The tail ends of the vermilion advancements were left open in preparation for the corner of the mouth lifts. Corner of the mouth lifts were done by making an outward line of 7mms from the corners toward the tragus and turning that into a triangle as it curved toward open end of the lip advancement. Finally, fat was harvested from her abdomen from inside her bellybutton, concentrated and then injected from the bottom end of the marionette lines upward, placing 4ccs of fat per side.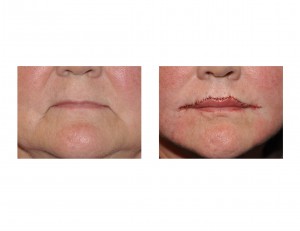 There are many options for turning an aging or unhappy mouth area into a more rejuvenated one. While the most common technique that comes to mind are injectable fillers, they usually are inadequate for older lip and mouth area as the exclusive treatment option. To make lips fuller or to change the smile line in older patients requires skin removal and lifting techniques.
Case Highlights:
1) Lip and perioral aging is often accompanied by a combined thinning of the upper lip and downturning of the corners of the mouth.
2) Corner of the mouth lifts combined with an upper lip advancement creates a more complete lip rejuvenation effect.
3) Most perioral rejuvenation procedures can be performed under local anesthesia as an office procedure.
Dr. Barry Eppley
Indianapolis, Indiana