Background: Of all the difficult cases in rhinoplasty surgery, the cleft  nose remains one of the most challenging. While this challenge is magnified in the bilateral cleft nose, it is only slightly less in the unilateral cleft lip and palate patient. The challenge its not in understanding the deformity but working with nasal tissues that are both deformed and often congenitally deficient.
While the cleft nasal cartilages are deformed due to the asymmetry caused by the cleft that runs up through its nasal floor, the overlying skin also poses limitations. The affected nasal alar rim is always pulled down and the skin is often restricted by a recessed nasal base. Equally importantly the internal vestibular tissues usually have a web that is both limiting in elevation and for which a satisfactory solution remains elusive.
While many cleft patients undergo limited nasal reshaping procedures as an infant or child,  the more formal septorhinoplasty awaits until after puberty. When that should be done can be debated but it is most accepted that it awaits until after any jaw surgery may be done or the determination made that it is not needed. A stable maxillary base that will  to change in the future is a prerequisite for rhinoplasty surgery.
Case Study: This teenage left cleft lip and palpate male has been through all of his primary cleft lip and palate repairs as well as secondary alveolar bone grafting. He had also had a tip rhinoplasty as a child as well.

Under general anesthesia, an open seiptorhinoplasty was performed. Septal cartilage was used for a columellar strut, left middle vault spreader graft and left alar batten graft. Bilateral subtotal inferior turbinectomies were also done.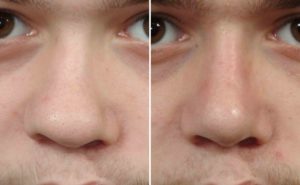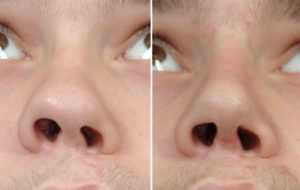 In a cleft rhinoplasty some of the most important goals are to improve the shape of the nasal tip and cleft-sided nostril deformity. To do so requires septal correction and in the process the harvest of cartilage grafts to provide the structural rigidity that is needed to do so.
Highlights:
The cleft nasal deformity is a combination of structural deformity and structural deficiency.
Cleft septorhinioplasties almost always needs to be done with an open approach and usually requires cartilage grafting as well.
The nasal tip deformity in the cleft nose can never be normalized completely but it can have major improvement.
Dr. Barry Eppley
Indianapolis, Indiana