Background: The shape of the ear is complex and its affected by how its cartilage structure becomes formed during its embryologic development. With its array of folds and concavities the ear assumes a unique shape for each person. In addition to its shape,  its size and orientation to the side of the head affects how visible it is when seen in the frontal view.
The most visible part of the ear is its outer edge known as the helical rim. Formed from contributions of the embryologic Hillocks of Hiss #s 3,4 and 5, the outer rim becomes the leading edge and the most protruding level of the ear.  The length of the helical rim affects both the size and protrusion of the ear.  As an encircling anatomic feature, the smaller the helical rim is the smaller the ear may be for it may make it stick out more, depending upon how shortened it is.
In the protruding ear there is always some degree of helical rim shortening although much more minor than in the truly constricted ear. This perceived effect is caused by the lack of a well defined antihelical fold. Without an antihelical fold the outer helical rim becomes folded over or shortened.
Case Study: This teenage female was bothered by ears that stuck out  and they were a source of embarrassment for her. She had a well formed concha which was not excessive.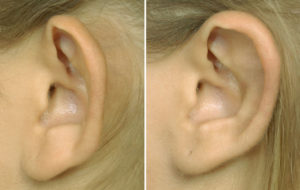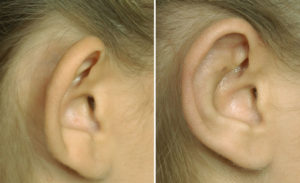 Under general anesthesia bilateral otoplasties were performed with the total focus on improving the shape and definition of the antihelical fold. Using permanentt horizontal mattress sutures through a postauricular incision, the creation of the antihelical fold brought back the ear into better alignment with the side of the head.
With a setback otoplasty achieved through antihelical fold creation, the length of the helical rim actually becomes longer. Such helical rim elongation allows the ear to set back further against the side of the head in a less conspicuous manner.
Highlights:
Otoplasty surgery is most commonly done in children and teenagers to correct protruding ears.

The most important principle in protruding ear correction is elongating the helical rim to move its outer portion closer to the side of the head.

Antihelical fold

 

manipulation is the only technique for helical rim elongation.
Dr. Barry Eppley
Indianapolis, Indiana